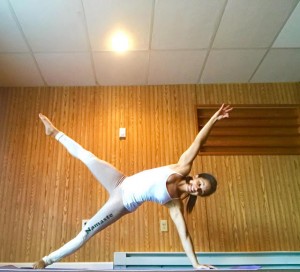 This humble, human vessel I call my own always seems to be brimming over with an abundance of gratitude this time of year. As a December baby, the first day of New Year on the Gregorian calendar shortly follows my own completed rotation around the sun. As a result, the final month of the year becomes an extended period of personal reflection, retrospection and appreciation for the experiences and insights I've gained over the previous 52 weeks.
This last year has been a bit of a sleeper–so much so that I initially struggled with identifying its highlights. They seemed more mundane, perhaps, than previous years' adventures of getting married, traveling overseas, attending yoga trainings/conferences and celebrating the big 4-0. Yet it has been by no means an insignificant past 12 months. 
One of the biggest adventures was our move from the southwestern part of the state back to central Connecticut back in April. While I still miss the daily interactions with wildlife and regular hikes around the gorgeous property of our last abode, we've settled nicely into our roomier dwelling here that is far closer to most of our friends and family. With my dystonia far better managed than ever before and surrounded by the more familiar roads of my youth, my confidence back behind the wheel has increased significantly.
My brother, sister-in-law, niece and two nephews are an unbelievably brief 15-minute ride away. This means I can and was able to actually drive myself to the kids' school events, like orientation day and concert night, as well as catch one of the games in my nephew's soccer tournament. Being able to see them more often and to have a more active role in their lives once again has been one of the greatest blessings of this past year.
With a spacious condo and a real dining room again, we could host my nephew's 11th(!) birthday party. We were also able to have friends over on a more regular basis, including our first, real 'dinner party' at the beginning of the month. A friend of mine lives in a nearby complex, so we were able to get together for long walks around the neighborhood several times this year. The town where we live is also surrounded by diverse hiking trails, which I was able to explore much of this past summer and fall with my hubby and friends.
"Living life with an open heart is not just less damaging than having to defend it, it is, ironically, the very state in which nothing and no one can hurt you." —Shai Tubali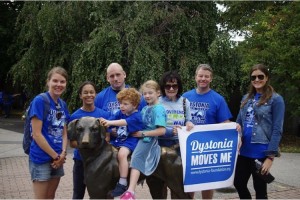 In September, my husband helped me get to my first, big dystonia awareness event at the Roger Williams Zoo in Providence. It was so special to get a chance to spend time with other folks in New England who survive in thrive with this neuromuscular condition. While it wasn't quite the organized walk we had been training my body for, it was great to hear all the speakers and to observe the exotic animals while exploring the zoo. I look forward to hopefully attending the dystonia walk at the Bronx zoo in 2019.
For my birthday this year, I set up my own fundraiser for the Dystonia Medical Research Foundation, which supports awareness, education and research for individuals living with the neurological movement disorder called dystonia. Thanks to the overwhelming generosity of my family and friends, we were able to more than double my initial goal of funds for the DMRF this year. I intend to match every dollar raised in a personal donation to $5 Dollar Cure For Dystonia.
It is thanks to my husband's boundless generosity that I have been able to receive weekly treatments with a licensed massage therapist and acupuncturist for the last six months. I am overwhelmed with gratitude for Aaron Latham Greenberg of Silk Road Health: Acupuncture and Integrated Manual Therapy. On his own initiative, Aaron thoroughly researched dystonia, a medical condition that he had never treated before, and consulted with his medical professional peers in neurology and Traditional Chinese Medicine to figure out how best to treat me. He also took the time to study the work of dystonia specialist Dr. Joaquin Farias, whose revolutionary understanding of the underlying mechanisms behind this disorder gave me great hope and enthusiasm for my future–so much so that I signed up for two of his neuroplasticity trainings in Toronto in 2019 (the first of which is in two weeks!).
Based on his new understanding of Farias's theory of the hyperactivity of certain muscles compensating for the hypoactivity of other muscles in dystonia, Aaron was able to translate and tailor a style of Japanese manual therapy to help me stimulate my under-functioning muscles to normalize and stabilize the hyper-functioning ones. This therapy has been so helpful for my body that it can stop a dystonic storm almost immediately. The level of dedication Aaron has shown to my health has been a most incredible gift. Perhaps even more importantly, he has fully trusted me to be the ultimate authority on my own body and its symptoms. He has taken the time to truly learn my health history. He has helped me take note of shifting symptoms. And he has astutely tracked how my body has been responding to different treatments, making adjustments. I truly believe his compassionate care has been instrumental to stabilizing my dystonia and keeping my immune system robust enough to get through the chaotic aftermath of a hysteroscopy with dilation and curettage–and the subsequent discovery of a rupturing ovarian cyst.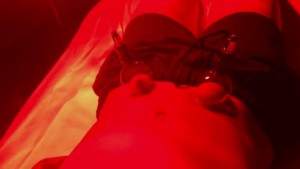 I continued to take my healing in my own hands with daily meditation and yoga practice. I survived my first three-day fest and got into the routine of more intensive intermittent fasting. For several months, I reduced my daily eating window by extending my fasting hours. While the holidays derailed my clean eating for a time, boosting my inflammation once again, I will likely do another 72-hour fast soon, and I am committed to getting back on the ketosis wagon with the start of the new year.
While I've blogged about several of the above experiences here, much of my writing the last half of 2018 has been outside of The Mind-Body Shift. I did a lot of essay writing and offline journaling as I've been working on my health memoir. I also wrote a few extended reviews on books that really resonated with my soul–one of which was responded to by the author herself and retweeted to her followers. I'm most proud of completing the four, intense courses of Wesleyan University's Creative Writing Specialization track, through Coursera. At a time when I really needed extra encouragement to explore my writing capabilities in both nonfiction and fiction, being required to complete four assignments each week–many of which were outside my comfort zone–really showed me how versatile, prolific and creative I could be with my writing, even under a deadline. As I complete my final capstone project, I find myself fully appreciating, once again, just how much I enjoy writing of all kinds. I am also reminded of the pleasure I feel sharing my writing with others, and I am ready to do much more of that in 2019.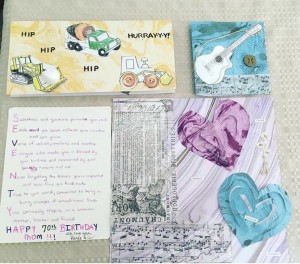 This past year, I let my inner child come out to play creatively quite a bit. I experimented with making mixed media greeting cards for my loved ones. I doodled often with Zentangles. I wrote an array of poems and several songs, really immersing myself in the pleasure of playing and practicing my own compositions again. A couple jam sessions with friends reminded me of how much I love sharing my music with others, and I am even more inspired to record my original songs in the new year. I had a lot of seeds germinating and taking root throughout 2018. The extended incubation period I've taken, I feel, has been necessary for me to be able to fully flower and truly bear fruits of amazingness in the new year ahead. I look forward to sharing the journey ahead with you all!