The season of giving kicks off today with #GivingTuesday, an annual philanthropic movement powered by community collaboration and driven by social media campaigns. Celebrated on the Tuesday following Thanksgiving, Giving Tuesday was founded in 2012 by the Belfer Center for Innovation & Social Impact in New York City to celebrate compassionate service and to encourage individuals to connect and give back to the non-profits and civic organizations that support our communities. The benevolence inspired by #GivingTuesday is a refreshing and rewarding counterpart to the consumerism encouraged by the spending frenzy of Black Friday and yesterday's Cyber Monday. We help to empower ourselves and others to live wholeheartedly when we cultivate and practice compassion and connection by serving and supporting one another.
The acts of generosity spurred by #GivingTuesday are not intended to break your personal bank. Just five dollars, for example, helps to support a cure for dystonia. And if finances are tight, especially around the holidays, giving your time is just as valuable and beneficial to a cause, if not more so. You might wish to volunteer an afternoon to serve at a local soup kitchen, to advocate for victims of domestic violence, or to help raise awareness for a specific disease.
If you'd like to give but are unsure of where to offer a donation, I recommend you search for an organization that serves your local community or has a mission that speaks to your soul. I personally am drawn to organizations that support lesser known diseases or health conditions, as well as those that focus on educating girls across the world and those that support victims of sex trafficking. Below, I have compiled a list of five organizations that I support with both my wallet and my time. Please feel free to share the nonprofits or causes that you champion in the comments.
1. $5 Cure For Dystonia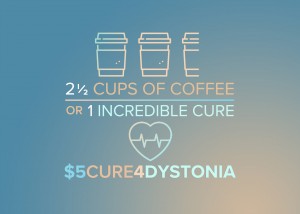 Backed by the Dystonia Medical Research Foundation, the $5Cure4Dystonia campaign is the brainchild of awareness activist Mike Delise, a close friend and advocate for Michigan native Jason Dunn, who has been living with generalized dystonia since childhood. Delise's daughters attended school with Dunn, and the two became fast friends after meeting at the latter's high school graduation.
Delise had never before heard of the neurological movement disorder that is so severely debilitating for Dunn. Delise grew determined to increase awareness in the general public of dystonia, which affects more than 200,000 Americans and is the third most common movement disorder, after essential tremor and Parkinson's. He was inspired to capture Dunn's story on video and reach out to the media to raise awareness for him.
When Dunn's childhood home was falling apart, Delise led the effort to raise funds to rebuild a new house. As Dunn lives on his own, the house needed to be specially equipped to accommodate his health challenges. Delise and Dunn visited with countless individuals and local civic organizations, businesses, sports teams and media outlets to acquire donated materials and raise the $100,000 needed for the house's construction. Habitat for Humanity then got involved to help build it.
"We had a number of fundraisers, like golf and bowling and two super bowl parties, Also, the Warren Lions Club golf team donated $20,000, and Habitat [For Humanity] National matched it," Delise said in a recent interview. "Fox2 in Detroit did a number of stories on Jay, and people came to the super bowl party just to drop off money."
Delise's efforts to help Dunn didn't stop there, however. "I have taken Jay to meet so many celebrity-type people hoping to find that one person to take my place so that he and the community could get even more awareness," said Delise. "I have gotten him in a Texas hold 'em poker tournament were he played with Detroit Red Wing hockey players and met every red wing player." Dunn also has met most of the Detroit Lions football team and has met players while on the field of the Detroit Tigers. He and Delise have become popular fixtures at local sporting events, and they have season tickets to the Detroit Lions football team.
Dunn and Delise have done much to raise awareness for dystonia the past 12 years, and they are now especially committed to raising funds for researching a cure. "I felt like there are a lot of people out there that would like to help a cause like this but can't afford it. Maybe they could afford $5, but thought that it wouldn't help or mean anything," he explained.
Yet he grew convinced people could help a great deal simply by offering up what they'd normally spend on coffee each day. That's how $5DollarCureForDystonia was born. Family and friends helped to build the website and create the logo. The campaign's catchphrase, "It only takes five to help someone survive," was thought up by Delise's friend Travis Stong. Hundreds of individuals have lead supported the campaign, which collectively has raised more than $11,000.
"With this campaign, your $5 means everything," Delise said. "I figured almost everyone can afford to give $5, and if we can make it catch fire will will raise a lot of money and awareness."
Delise's goal is to raise a million dollars–$5 at a time. "I'm self employed, and I can't do half of the things I want to do with Jay," he said. "If I could take off work I would personally take Jay to meet 200,000 people and get $5 from each of them to raise that million dollars that I hope to do with this campaign."
To those who might ask why they should give up a Starbucks coffee, Delise has a straightforward and heartfelt answer. "If I had the chance to pick between buying one expensive coffee (or two-and-a-half regular coffees) and possibly changing someone's life, it's a no brainer," he said. "That's the easiest question anyone has ever asked me. Change someone's life would win every time."
Learn more about the #5DollarCure4Dystonia at 5DollarCure.com Donate directly here. Then consider sharing the link to this article with five of your friends on Facebook or Twitter. You can also learn more dystonia and Jason Dunn on Extraordinary Humans: Muscles from National Geographic.
2. Accessible Yoga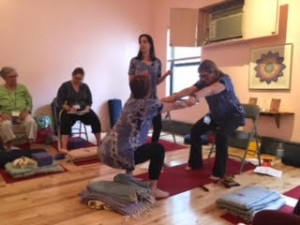 Accessible Yoga is a grassroots organization with the mission of providing education, supportive resources and community for those who seek to increase the accessibility of yoga to meet the needs of people with disabilities and chronic illnesses, seniors, and other folks who may not feel like they fit into a traditional yoga class. It is run by five part-time staff and approximately 100 devoted volunteers (myself included) around the world. It unites people who are dedicated to serving marginalized and underserved communities by sharing the movement practice of yoga. It offers full and partial scholarships for yoga teachers and students who qualify for assistance to attend its conferences each year.
This Giving Tuesday, Accessible Yoga seeks to raise $4000 for full and partial scholarships to its 2018 Conference in Toronto in June. The Accessible Yoga Conference allows an increasingly growing community of yoga practitioners and teachers to learn new skills, share practical knowledge and provide support in their commitment to bring yoga to more diverse populations. Readers can donate here.
As someone studying and teaching yoga with autoimmune disease and a movement disorder, attending their conference in New York City this past May was truly a dream come true. There, I got the opportunity to meet and learn from seasoned yoga teachers about leading inclusive yoga classes for diverse populations with varying special needs. My personal mission for many years has been to help people with chronic illness and pain to gain the knowledge and tools for greater healing and empowerment. It was incredible affirming to meet other practitioners and teachers who seek to bring the practice of yoga to even more folks who might benefit from its body, mind and spirit teachings.
Accessible Yoga is a 501(c)3 non-profit that provides conferences, trainings, volunteer opportunities, a global online directory and other resources. Founded in 2007, the organization advocates internationally for a diverse yoga culture that is inclusive and welcoming to all. Your donation is tax-deductible and will be acknowledged in their online donor list–unless you choose to opt out. Please visit AccessibleYoga.org to learn more!
3. Lupus Foundation of America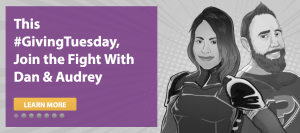 I not only face the chronic health condition of dystonia, but I am also one of the estimated 1.5 million Americans who live with lupus. Lupus is an autoimmune disease where the immune system begins to attack any organ system in the body as if it were dangerous foreign substance. The majority of people with lupus are women, and it usually first strikes during one's childbearing years.
This #GivingTuesday the Lupus Foundation of America (LFA) invites you to become a Lupus Hero by gifting what you are able. Your monetary gift will contribute toward:
Funding life-transforming medical research,
Providing expert and compassionate support to people with lupus and their caregivers,
Making lupus a national health priority,
Ensuring the future of work by the LFA to secure better treatments, and ultimately a cure for this devastating disease.
Today, the organization looks to raise $55,000. And with each donation made before 4 p.m. today, Nov. 28, the LFA will match it to support a first-of-its kind study to evaluate adult mesenchymal stem cells as a potential treatment option for lupus, according to Sandra C. Raymond, LFA chief executive officer. These matched gifts are thanks to the generous donor Wayne Ballin of the Wallace Coulter Foundation, who has pledged to match up to $12,500 in #GivingTuesday donations.
Donate now to the Lupus Foundation of America here. Also, consider getting involved with your LFA local chapter.
4. #AARDAGIVINGTUESDAY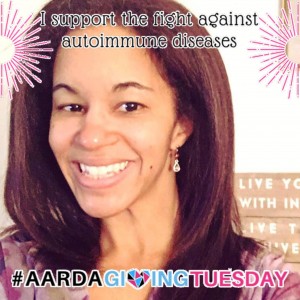 American Autoimmune Related Diseases Association (AARDA) is the nation's only non-profit organization committed to bringing  national awareness to autoimmune diseases as its own category of diseases. An estimated 50 to 75 million Americans are affected  by at least one of the more than 80 autoimmune diseases. Additionally, medical experts believe that only 1 in 3 people living in the United Sates with autoimmune disease have actually been diagnosed.
"Autoimmunity is a process where the immune cells begin attacking self and attacking normal, healthy vibrant tissue, causing damage," said Terry Wahls, M.D. clinical professor of medicine and multiple sclerosis warrior, in the online summit Betrayal: The Autoimmune Disease Solution They're Not Telling You.
According to medical professionals interviewed in Betrayal, the incidence of autoimmune disease has tripled in the last 50 years. "And over time, we've been converting many of our chronic diseases into possibly immune, probably autoimmune…in nature," said Wahls. "And I would predict that another 20-30 years, the vast majority of our chronic diseases will have been re-classified as probably autoimmune in nature."
The AARDA is dedicated to eradicating autoimmune disease and the alleviating the suffering of those living with it. Its patient education program is instrumental in this effort.
A monetary gift of $10 helps provide four patients educational material to
educate them about autoimmune diseases
connect interested patients with research programs
provide them with physician referrals to help arrive at a diagnosis and am eventual treatment plan to improve their quality of life.
The AARDA has set the goal to raise $10,000 in the 2017 #GivingTuesday. With these funds, its aim is to provide patient education services to 4,000 people impacted by autoimmune related diseases.
There are multiple ways to support their campaign.
You can donate by texting AARDA to 20222
Go to the AARDA #GivingTuesday online donation page at aarda.org/givingtuesday
Write a check (mail to: American Autoimmune Related Diseases Association; 22100 Gratiot Ave., Eastpointe, MI  48021; Memo: #GivingTuesday)
Take an #UNselfie using our template 
5. Her Future Coalition
https://www.youtube.com/watch?v=ieJBcIOc7_w
When I was in my early 30s, I went to an event featuring documentary filmmaker Sarah Symonds at the local church in which I grew up. Symonds shared her experience of traveling to Nepal, where she was deeply moved by the survivors of sex trafficking and slavery. Her experienced inspired her to launch Made by Survivors (now known as Her Future Coalition), an international charity that provides education, trade skills and high quality jobs to women in impoverished communities. I was deeply moved by her emotional and inspiring presentation, and I took to heart her invitation to volunteer with the organization.
Having been to Nepal myself in my college years, I had also been struck by the warmth, kindness and keen curiosity of the local peoples I met. I am grateful I took the time to befriend the children who were begging from us trekking tourists while we passed through their deeply impoverished communities. I learned that responding to begging by giving cash to children in areas of abject poverty didn't help them; it was far better to give them practical items they could use and, when possible, share knowledge with them. Ever since that trip 20 years ago now, I have had the strong desire to return to the country to teach, especially young girls who are at even greater risk of exploitation.
In 2017, the overhead of Her Future Coalition has been fully covered by grants, so every dollar you donate goes directly to their core programs in shelter, education and employment. If you feel called to support an opportunity for more girls to gain education and independence in Nepal, India, Cambodia and Thailand, you can give to HFC today.
5b. GEMS
https://www.youtube.com/watch?v=d1IlcHnXTX8
A lot of people don't even realize that human trafficking occurs closer to home as well. The 2016 Global Slavery Index estimates that 57,000 people living in America are victims of forced labor or sexual exploitation. In October 2015 alone, the FBI's Operation Cross Country rescued 149 underage victims of prostitution across 135 cities. The youngest victim recovered was 12. With more than 150 pimps and other individuals arrested, one imagines that there are countless other children being sexually exploited.
In my neighboring New York, Girls Educational & Mentoring Services (GEMS) is works to specifically provide girls and young women a way out of commercial sexual exploitation and domestic trafficking. Rachel Lloyd was sexually exploited as a teenager. When she came to the United States in 1997, she worked as a missioner with adult women looking to leave prostitution. Lloyd discovered that there was an overwhelming need to reach girls and young women at risk for sexual exploitation, yet ignored by traditional social service agencies. In 1998, she founded GEMS to help girls and young women, ages 12-24, get out of the sex trade and transition into safe, healthy, happy lives, developing to their full potential.
Today, GEMS is a nationally acclaimed organization that serves as one of the largest providers of support to sexually exploited and trafficked youth in the U.S. The organization also advocates at the local, state and national level for policies supporting these young women. It provides housing, crisis supplies and education to youth in New York City. It also provides customized training and technical assistance to staff from other organizations and institutions looking to help support sexually exploited children.
Readers can make a donation to the organization at GEMS-Girls.com. Or you might consider donating toys for the families they serve by purchasing from the GEMS Children's Christmas Wish List on Amazon . You can learn more about the commercial sexual exploitation of girls in New York City and the services GEMS provides in the documentary Very Young Girls, available for streaming on Amazon or on Netflix DVD.