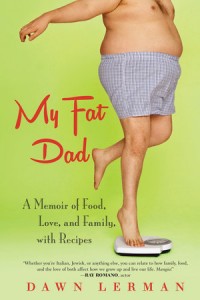 Dawn Lerman learned early on in life that cooking delicious meals was the secret to earning the affection of her emotionally distant father. Constantly battling high numbers on the bathroom scale and a voracious appetite for flavor-rich foods, her obese dad's struggles inspire Dawn to positively support him in his endless experimentation with diets. Aided by the culinary genius of her grandmother, Dawn learns how to help combat her father's battles with food addiction—and feed her own aching desire for acceptance—by cooking up a plethora of nourishing, homemade meals made with healthier ingredients. Through a sensory-rich story that is two-thirds childhood memoir and one-third cookbook, My Fat Dad captures the life of sweet and sensitive Dawn, a child hungry for her parents' love and attention, who finds nourishment and empowerment in her grandmother's kitchen.
Growing up with a career-driven father and detached mother, Dawn finds the affection she craves in the arms of Beauty, her doting maternal grandmother. Unlike Dawn's own mother, Beauty is nurturing, patient and supportive, with a kitchen always filled with the tantalizing fragrances of her cooking. For Beauty, cooking is akin to a religious experience, a pastime that honors family traditions, sparks creative innovations and is filled with love. "My bible is recipes that fill your soul and will keep you healthy and nourished for years to come," Dawn recalls her grandmother saying.
Beauty's nourishing, home-cooked meals invite Dawn to sit down and savor food. By enlisting her granddaughter's help in the kitchen, Beauty also instills a passion for cooking in Dawn that will last a lifetime. This gift inspires Dawn to start cooking healthy dishes for herself and her family back at home. Even after she and her family move to a different state, Dawn continues to receive loving support and guidance from Beauty, who sends her a recipe, shopping list and grocery money every week.
Beauty shares most of her own culinary secrets with her granddaughter, but she encourages Dawn to add her own creative twists to her cooking. As a result, with each new diet her father attempts, Dawn can easily make recipe alterations to meet his macronutrient needs, while also satisfying the taste buds. Soon, it is second nature for her to make healthy substitutions for ingredients banned by his eating plan of the moment. Her cooking also becomes informed by the cultural diversity of flavors from their new home in New York.
Dawn's own adventures in the kitchen carry her from insecure and needy little girl to confident and independent young woman, one recipe at a time. While Dawn never seems to struggle with her weight like her dad, she does inherit his deep appreciation for good food. Each childhood recollection in My Fat Dad is intertwined with memories of the delicious food Dawn enjoyed during different periods of her life. Food serves to connect Dawn to the Jewish traditions of her family's past, to emotionally bond with her family and friends the in present, and to set herself up for health and success in her future.
Does food ever help to repair the relationships in Dawn's family? You'll have to read the endearing and emotionally stirring memoir to find out. Leave a comment below for your chance to get a copy of the book for free! For now, here's a healthy, flavorful recipe from board-certified nutrition expert Dawn Lerman's kitchen: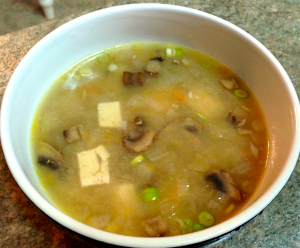 Healing Mushroom Miso Soup— Vegetarian, Gluten Free & Kosher
Yield:  8 servings
My dad credits this soup to helping him survive lung cancer and finally conquering his lifelong battle with obesity. This healing soup made with Shitake, Portabella, and Maitake mushrooms revived his spirit when he was diagnosed. He remembered how his mother, my Bubbe Mary, cooked for him when he was in a coma after being beaten up by a bunch of bullies in the sixth grade who were taunting him about his weight. Bubbe said it was the smells from her kitchen that brought him back to life. Bubbe was gone by the time he got cancer, but when he was sick, he remembered Bubbe's words, "Soup is good food," which he eventually turned into a famous advertising tag line for Campbell's Home-Style brand soup.
Ingredients:
1 (2–3 inch) fresh organic ginger root, peeled and coarsely chopped
½ organic onion, chopped
1 tablespoon of oil of choice
6 garlic cloves, chopped
1 cup sliced mixed raw mushrooms—shiitake, portabella, maitake
Water, or you can use 64 ounces of vegetable broth
1cup organic dried Shiitake mushrooms
½ pound tofu, diced
¼ cup organic miso paste (There are many types of miso to choose from. I like sweet white miso—this is a paste not a powder—and you can add a little more if you like a strong miso flavor)
1 head of roasted garlic cloves, peeled and mashed
2 organic carrots, chopped
1 teaspoon of salt (preferably a truffle salt or good-quality Himalayan salt) or more to taste
In a stockpot, sauté the ginger and onion in the ghee until the onion just begins to sweat. Add the raw garlic and raw mushrooms and cook till browned. Then add the water or broth to the pot and bring to a slow boil. Add the dried mushrooms and tofu and then lower the heat, cover, and simmer for 30 minutes, or until the shiitakes are fully reconstituted.
While the pot of mushrooms is simmering, ladle about 6 ounces bowl of the broth into a separate bowl and add the miso paste to it, stirring until dissolved. Next, add the mashed roasted garlic to this mixture. Once thoroughly combined, add the garlic-miso mixture back into the pot. Stir well and enjoy all the healing properties of this magic broth.
* Note: Miso is a traditional Japanese fermented soy or rice paste. Its healing power is often compared to chicken soup, especially when paired with immune boosters like garlic, ginger, onion, and shiitake mushrooms.
Dawn Lerman, MA, CHHC, LCAT, is now a board-certified nutrition expert and founder of Magnificent Mommies, a company specializing in personal, corporate, and school-based education. Lehman counsels clients on weight loss, diabetes, high blood pressure, ADHD, and other diet-related conditions. She also lectures at schools and corporations, as well as contributes to local and national media outlets, including the New York Times Well Blog. She lives in New York City with her two children.