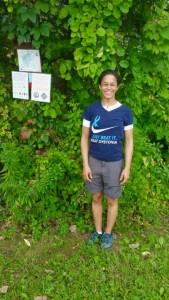 This Saturday, my husband and I are heading to Roger Williams Zoo in Providence, RI, for the very first time, and I can't even explain how much I'm looking forward to this unique experience. It's been more than a decade since I last visited a major zoo, but getting the chance to have close-up encounters with snow leopards and giraffes isn't the main reason that I'm itching to get to Providence. After close to a decade of living with this quirky neurological disorder, I'm finally going to be able to participate in a Dystonia Zoo Walk. Before I share more about the actual event, let me explain why finally getting to take part in this event–and to take back even more control over my moving limbs–is such a big deal for me.
Eight years ago, I was diagnosed with dystonia, a neuromuscular movement disorder that is characterized by sustained muscle contractions that result in involuntary movements and/or abnormal postures. Back then, I experienced several dozens of uncontrollable episodes each day that contorted my body so severely that I found myself falling almost every time I tried to walk more than a few feet on my own. As a result, I hugged the walls, crawled or leaned on a loved one in order to walk to the bathroom or go down the stairs in my home. I used kitchen chairs with wheels to get from room to room on the ground floor. I required supervision to bathe, and I accrued countless bruises after collapsing in the wet shower, even when I had the all-too-humbling supervision of my mother. When I was able to leave the house, I usually had to use a wheelchair or motorized scooter to get from place to place. Suddenly struck by these symptoms seemingly out of nowhere at the age of 32, I was terrified to think I might never walk normally again.
Despite being a bit of a klutz growing up, I spent my childhood years playing soccer, performing gymnastics and sprinting and leaping in track and field. As an adult, I took up weightlifting and indoor rock-climbing, but it was hiking that became a real passion–so much so that with less than a month's notice, I found myself heading to Nepal on a study-trek adventure between my sophomore and junior year. I was no mountaineering master–unlike Tenzing Norgay and Junko Tabei–by any means, but taking a spirited walk in the woods, along the coast or up and down mountains was a sure way to put a smile on my face and joy and peace in my heart. To be forced off my feet in my early 30s was inconceivable and disheartening.
Despite the fear and anxiety that accompanied the onset of this baffling disease, I fought with every fibre of my being to get back on my feet, first starting with small walks to the mailbox and slowly, but eventually getting to the point where I could take a 10-mike bike ride. Since the harrowing first years of living with dystonia, I have made leaps and bounds in managing this disease and regaining control over my physical movement. Today many weeks may go by before I have symptoms that are obvious to the casual observer and a month or more may pass between falling episodes–though I still have plenty of tumble and spills on the yoga mat. Thanks to symptom-controlling medication (I'm lucky enough to be responsive to dopamine supplementation), dietary shifts (intermittent fasting and following the ketogenic diet), fundamental lifestyle changes that include a daily commitment to finding physical, mental and spiritual balance with mind-body practices like yoga, meditation and expressive arts therapy, I have been able to (mostly) ditch the assisted devices in public, get back behind the wheel of the car, become certified to teach yoga, and once again take regular nature walks with my husband and friends.

This is why I am so excited to share that I will be walking in the 2018 Dystonia Zoo Walk in Providence on Sept. 8.  With my husband and fellow dystonia warriors by my side, we'll be sporting our dystonia blue to raise awareness and funds for the Dystonia Medical Research Foundation, in support of furthering research into this lesser-known neurological disorder.  Providence is just one of 13 cities across the United States holding a Dystonia Zoo Walk in 2018. Participants are invited to walk as much as they'd like (and are able). While the event is not officially a 5K Walk, I'm determined to walk the equivalent of one as a symbolic gesture of just how far I've come. There will also be games, face painting, door prizes and more. However, the main reason we're all gathering together is to show support for another and the hundreds of thousands of Americans living with this neurological condition. I look forward to finally meeting more people who share this disorder and swapping stories of struggle, hope and triumph.
While many in the medical field are still uneducated and misinformed about this painfully debilitating and disruptively unpredictable condition, it is estimated that 300,000 people live with dystonia in North America alone. In fact, it is the third most common movement disorder, after essential tremor and Parkinson's disease–dystonia's close cousin. That's why it is so vital for those of us in the dystonia community to use our voices to share what we know and experience first-hand from living with this health challenge.
There are many forms of dystonia, which can be limited to a specific set of muscles or can affect the entire body. For instance, some may only experience symptoms when they perform certain tasks with their hands, such as playing a musical instrument. Laryngeal dystonia–or spasmodic dysphonia–can affect speech. Others may experience muscle spasms and contractions at any ol' time, even at 'rest.' Dystonia may be hereditary or triggered by changes to the nervous system via physical trauma or exposure to certain medications or toxins. Dystonia may also develop secondarily to other medical diseases, such as Parkinson's, Multiple Sclerosis or antiphospholipid antibody disease. This disorder doesn't discriminate–it strikes young and old alike.
While there is no known cure for dystonia, patients may experience relief of symptoms through oral medications, injection of botulism neurotoxin into affected muscles, Deep Brain Stimulation (DBS) implants or various physically therapeutic modalities. Dystonia specialist Dr. Joaquin Farias works with patients to help take back control of their bodies through neuromodulation and neuroplastic movement therapy. Personally, I'm convinced that diet also plays a significant role, as I and many other patients feel improvement of symptoms after cutting refined carbs and chemicals out of our diets, while upping healthy sources of dietary fat. As no two cases of dystonia are exactly alike, there is no one-size-fits-all treatment, and patients may find relief through a combination of allopathic and complementary medicine treatments, including acupuncture and massage therapy.
I know that I personally get an incredible boost to the body, mind and soul when I'm outdoors in the fresh air. And being surrounded by so many, adorable animals certainly won't hurt my spirits either. I really look forward to getting to speak with and spend time with friends, old and new.
Please consider supporting my walk on September 8. You can also contribute just $5 to help raise money for a cure over at $5Cure4Dystonia. Please take a moment to learn more about dystonia at the Dystonia Medical Research Foundation at https://dystonia-foundation.org