I was born with what one physician noted in his doctor notes as "grossly flat feet." While they aren't the prettiest feet in the world, I believe what my doctor meant by "grossly" was that I had completely flat footsies, with no hint of an arch at all. What this really meant for me was years of shin splints, as well as foot, knee and, sometimes, even lower back pain, when standing or running around for too long, especially in shoes with severe arches that didn't match up to my small feet. Was there a solution to painless feet?
In high school, I was fitted for orthotics, or shoe inserts, to help treat and prevent the problems that come with flat fleet. At that time, I remember using them most often in my flat, Bass Pro sneakers and in certain hiking boots and sneakers. I wore them in fits and spurts over the years; sometimes with better results than not. Eventually, though, as my fashion sense progressed, my cute, petite shoes couldn't hold my orthotics, my pain seemed to lessen, and I left the orthotics behind. It was easier just to go barefoot as often as possible.
When I was offered the opportunity to try the new fitness shoe, the Zen from Vionic, I was cautiously optimistic. Designed to prevent and alleviate pain, the shoes are also quite cute. To top it off, and American Podiatric Medical Association and famed integrative medicine physician Dr. Andrew Weil recommend the Zen shoes specifically.
Vionic footwear is designed to help reduce overpronation, where the foot rolls too much inward when walking or running, especially on hard, flat surfaces.  This affects hip alignment, knee function and can increase pressure on the lower back.
A New York Times article from 2011 had an interesting discussion on orthotics. It pointed out that a problem like overpronation, might require different orthotics for different people. In other words, one size doesn't fit all. Perhaps this is why the Vionic line offers six different models of footwear, from women's casuals to men's walkers, as well as orthotics.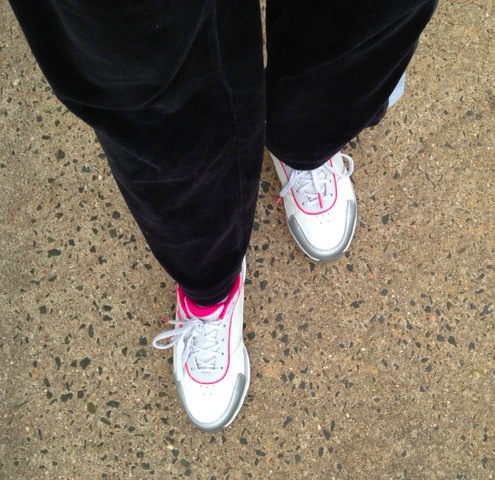 Since I started wearing them, the Zen walking shoes are a perfect fit. While slightly more clunky than my normal lightweight sneakers, they are perfect for walking, and they don't hurt my feet in the slightest. Best of all, they don't squeeze my big toes. They will be the perfect footwear as I join Vionic's 3rd Annual Walkabout Challenge, which starts today, March 3.
WHY WALK
Vionic's Walkabout is inspired by the Australian aborigine rite of passage, where one escapes regular life to embark on both a physical and spiritual journey
Why walk? It can help strengthen your heart, manage your weight, lower blood pressure, boost your immune system and more Daily exercise like walking can also improve your mood and increase focus and clarity.
THE CHALLENGE
Anyone can participate in Walkabout. Participants are invited to walk 30 minutes per day for 28 days. They'll receive weekly tips from Dr. Weil and celebrity fitness trainer Juliet Kaska, whose clients include P!nk, Ali Larter and Kerry Washington. Consider joining us in the Walkabout Quest for Good Health, on the heels of February's National Heart Health .
"Invest in a good pair of walking shoes," said Kaska ."They will do wonders for your posture and joints, minimizing the impact of each step. Look for lightweight flexible shoes and be sure to replace them often, especially if you're walking every day."
To take a look at Vionic's walking shoes, including the Zen shoe, visit VionicShoes.com.
You can share your Walkabout journey via social media using the hashtag #VionicWalkabout.
Register for the Walkabout here .