Getting through seemingly simple, everyday tasks can feel downright impossible when facing flare-ups of disease affecting the central nervous system. Battling the bottomless pit of fatigue, it might take an hour just to drag yourself from of the warm womb of your bedsheets. When balance is questionable at best, it might be your greatest accomplishment of the day to move from the bed to the couch. On those mornings when it's a struggle just to put on a pair of button-up pants, style and self-empowerment often must take a backseat to comfort and survival. However, you might find that you don't have to sacrifice the former for the latter quite as much if you make use of the practical tips, inspiring ideas and support of fellow survivors available on ReimagineMyself.com.
Reimagine MySelf is an online resource for people living with relapsing multiple sclerosis–and their loved ones. It has personal stories from survivors, coping strategies from MS experts and DIY ideas from those personally touched by the disease, including style expert, Jeannie Mai. Co-host of the daytime talk show "The Real," Mai joined the Reimagine MySelf program to share how she helped her aunt Linh rediscover and embrace her own personal style and sense of self after being diagnosed with MS.
The diagnosis several years ago drastically altered Aunt Linh's sense of self and deeply affected her close-knit family. "I didn't realize, until talking with her and getting her to open up and to feel not ashamed about what she was going through, that simple things like getting up and getting dressed in the morning really discouraged her from moving on through her day," said Mai in a recent interview on relapsing MS.
Multiple sclerosis is a disease characterized by an abnormal response of the immune system directed against the central nervous system, which includes the brain, spinal cord and optic nerves. In MS, the immune system attacks myelin–the fatty substance that wraps around and insulates the "wiring" of nerve fibers and also directs information signals between the brain and the rest of the nervous system. When myelin or the nerves themselves are attacked and become damaged, as in MS, the resulting tissue scarring impairs the proper transmission of nerve signals. This can result in fatigue, vision problems, numbness, cognitive impairment and trouble with balance and coordination–all of which make it increasingly difficult for folks with MS to get through the day.
"And every day seems to be different," added Megan White, who has dealt with intermittent losses of eyesight and use of her legs and left hand over the course of her disease since being diagnosed with MS in 2006. She has also experienced the common symptoms of fatigue, numbness and pain. "So those challenges of getting dressed, it's real. I can be exhausted by the time I get dressed. You know, it's like, oh, now I have the rest of the day."
Putting Yourself In the Shoes of Someone With MS
More than 2.3 million people around the world are affected by MS. In relapsing-remitting MS (RRMS), the most common course of disease, people have clear attacks of new or worsening neurological symptoms–known as a period of relapse or flare up–followed by periods of partial or complete remission of symptoms. According to the National Multiple Sclerosis Society, an estimated 85 percent of people with multiple sclerosis are initially diagnosed with the relapsing-remitting type.
"[Relapsing MS is] unpredictable, and it's different for everyone," White stressed.
"So, I think it's important to find out what that person is going through, and put yourself in their shoes–fashionably–so that you can understand a little bit more of what exactly it is, and then step in and help," said Mai. "I'm so thankful that Aunt Linh was patient with us asking a lot of questions, kind of being nosy and like poring into her life. Every day was like 'why, why do you feel this way? What does that mean?'"
Mai took the time to learn her aunt Linh's greatest dressing challenges throughout her day, from being unable to fasten the buttons of certain tops or to hook together a necklace. Mai was then able to "just go in there and kind of give [her aunt's] whole closet a makeover," she said, using her personal knowledge and skillset in fashion and style. "And from that, it not only bonded us–it gave us something to connect about–but it also began to build her personality and actually get her to be even more empowered and more fashionable than she was before."
Layering necklaces with a lot of length were easier to put on and gave her aunt a "really cool, drape-y, Bohemian look," Mai said. Traditional cardigans with a lot of buttons to fiddle with were replaced with "long dustier cardigans because it gives a little bit more drama to her outfits" and "immediately creates a lengthy, graceful look."
A petite woman, Aunt Linh also really enjoyed and felt empowered by wearing heels before her diagnosis. Mai switched out bulky and clunky heels for the more comfortable height of wedges. Linh's wedge Converse sneakers "make her look so immediately hip," said Mai. Alternately, cork heels are "lighter, and they're wider so she can manage when she needs to wear heels."
White, on the other hand, prefers not to even deal with wearing heels anymore–except to put them on for the camera. After pictures are taken, White goes back to what Mai describes as 'her cute shoes with shoelace'. The fashionista said to White, "And that has so much personality and spunk for you."
The Reimagine MySelf ambassador is candid about why she also no longer wears pants with buttons, classes and zippers. "Coming along with MS, there's bladder issues. And being in a restaurant bathroom by myself one time, I had to ask for help from a complete stranger–if she could undo [my pants] and then wait for a minute, so she could hook me back up, while I went to the bathroom." she said. "And so my pride has definitely been challenged."
Discovering 'The Cans' of Chronic Disease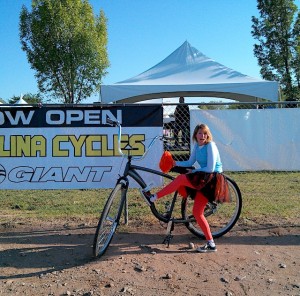 Yet White expresses gratitude for learning the vital skill of being able to receive help from others–including her family and doctors, whose support she relies on to "keep me being me and living my life to the fullest." Looking for the things she can still do instead of stressing what she cannot do has helped White keep positive about living life with MS.  She said, "Life's not over, it's just different. Find that 'can' in every situation."
Humor has also been a saving grace. "I do not take myself too seriously because there's going to be a time when things don't work," White said. She joked that trying to put on make-up when her fingers aren't cooperating has her looking "like Tammy Faye Bakker by the time I'm done."
Fortunately, her three "amazing daughters" are there to help her with makeup, hair and other daily activities. "There's all these things that they've come alongside me and help me still be me–humbly," she said. "So, I cannot stress enough that it's a village that raises somebody with MS."
Mai said there was nobody to connect with to talk about MS at the time of her aunt's diagnosis. "I really wish I had a community like Reimagine MySelf at the time," she said. "You know, everybody has some type of gifting or talent or knowledge or experience that can led insight to someone else, and that's what I love about Reimagine MySelf–you'll see that as everybody comes together and bring their cooking tips, their beauty tips, their own DIY stories of what they do."
White added that talking with other people with MS is a "common thread" that is so important to people looking to thrive with chronic disease. ReimagineMyself.com provides support and solidarity with others who share similar experiences. "I can't express enough that when there's a community, we don't feel like we're so isolated, and that we can reach out and have somebody to kind of lean on, " she said.
"I still think today that multiple sclerosis is a very misunderstood disease, especially since it affects everybody differently," said Mai. "I think it's important to own your identity, own your truth, and then just live…looking for 'the cans' in your life, like Megan says."