This post was made possible by Blogger Babes and contains affiliate links. I received a complimentary subscription of the Yoga Download service in exchange for my honest review. Thoughts and opinions are 100 percent my own.
If you're a yoga fanatic like myself, you can never have too many resources for learning more about this powerful mind-body practice. That's why I was extremely excited to test drive a membership of YogaDownload.com, with its multitude of online yoga classes in a myriad of styles, all available for home practice. Yoga Download's tagline is: Take Yoga Everywhere, which is an attractive promise for anyone who likes to stop drop and do yoga anywhere and any time the spirit leads you.
I immediately had to put the site's promise of accessibility to the test. While I would have to spend an additional $2.99 or $3.99 respectively to get the Yoga Download app on iTunes and Amazon (from which you only can access the free, 20-minute classes anyway), it was quick and easy to log onto the website from the browser of my iPhone and Samsung Galaxy tablet. Fortunately, there are dozens of free classes to view, including a six-minute office yoga video class meant to pump you up for a big meeting, an hourlong power yoga for detox audio class and technique workshops that break down poses like Chaturanga and Tadasana. After a long morning of working behind the desk, I discovered that my tablet was the perfect size for viewing Claire Petretti Marti's free, 14-minute class called "Yoga Break for Writer's Block."
Yoga Break for Writer's Block
As a fellow yogi and writer, Marti recognizes that several hours spent working at the computer can stiffen the back and muddle the mind. Her gentle flow—which can be done without props in a cubicle—includes a variety of poses to ground and center you, as well as to release tension in the most common targets of tension and pain while sitting at a desk—the shoulders, back and neck. Class begins with rag doll forward folds to create space in the back; swinging from side to side and shaking the head here help loosen tight neck and shoulders, while also calming the mind. Half sun salutations that include side bends encourage lengthening of the hamstrings, back and sides, which are normally cramped sitting in an office chair. Cat-Cow stretches and upper body twists in a modified horse stance further open the body, as does wide-legged forward fold with hands clasped in a shoulder stretch. Marti points out that putting the head below the heart in this pose encourages healthy blood circulation; circulation can get hampered when we stay in one spot sitting during the workday for too long.
Holding Warrior II pose after a gentle flow, which includes Reverse Warrior and Triangle poses, we are instructed to look over the shoulder and stare "softly at a single point of focus." This drishti gaze helps to foster focus and concentration. The class culminates in tree pose, which Marti explains is "really good for grounding your energy and developing your focus," before returning to the desk. After this body-loosening and mind-centering class, I found I was able to hold tree pose longer than ever before, and I felt energized and ready to tackle the rest of the day's work.
And I'm pleased to report that the video quality of the Yoga Download site on my tablet was phenomenal!
Due to the small screen size on the smartphone, it's probably best for audio-only yoga classes, music, and meditation classes. There are literally hundreds, if not thousands, of yoga-inspired tracks, albums and playlists (from yoga superstars, such as Shiva Rea and Kathryn Budig) available for purchase from Yoga Download. Fortunately, you can preview each track before deciding whether to buy an album of ambient instrumental music or a cappella, sacred Sanskrit mantras.
Stress Reducing Meditation on Your Smartphone
I found the meditation classes ideal for playing on the phone. I was feeling the effects of stress after a long afternoon behind the desk on another day, so I found that plugging a pair of headphones into the iPhone was perfect for coming into the present moment with April Laliberte's "Stress Reducing Meditation." Laliberte reminds that, while we may not be in control of a given situation, "we are in control of how we feel." As our thoughts can work us into and out of the experience of stress, Laliberte guides us to identify our feelings so that we might begin to understand how the vibrations of these feelings either positively or negatively affect the body. She instructs us on how to maintain a "high vibrational mood for as long as possible" for positive effect by directing the breath and movements of the body to both physically and emotionally rid ourselves of stress and tension.
To stream non-free classes like the above on any tablet, phone, streaming player or game console, you must purchase a Yoga Download subscription membership for 1 month, 3 months, 6 months or for the year. With each membership, you are also given a set number of free downloads of classes that you can keep forever and view at any time. The YD site unfortunately does not keep track of your place a video if you click off the page or step away from the computer long enough for the time saver to come on; the video returns to the very beginning upon loading back up.  If you download classes, you can then pause and rewind or stop and return to the class whenever you need to at your leisure.
Through Wednesday, August 17, 2016, Save Up to 40 percent Off SITEWIDE at YogaDownload.com

Healing Both the Body and Mind With Ana Forrest
I highly recommend saving one of the free downloads for intense sessions, like Ana Forrest's four master classes, each of which clock in at more than two hours and are chock full of insights and astute instruction. With close to 40 years of experience teaching yoga, Forrest is an internationally renowned pioneer in yoga for healing from emotional pain and trauma, and her classes are not to be missed. "As we go through the different sections of the back, one of these areas you will pick as your personal focus and your personal spot that you will be generating healing for…And many other parts of you are going to get it anyway," she says in her "Heal Your Back" class, guiding students to bring awareness into their physical bodies.
Throughout the 2.5-hour class, she demonstrates how the quality of breath and the ability to focus it while easing into and through asanas determine how well you bring healing to your body.  "And even if you know that it's not your spot, I'd like you to breathe into your upper back right now, experimenting with breathing in a way that brings healing into it right now. An openness. A release…So if you go in there trying to hammer it open, that's not going to help. It's going to actually create more stupidness in the area." She laughs, as the room collectively breathes with eyes shut. "So—new technology. How do you go in there and breathe in a way that brings release? 'Cause whatever spot your choose, attention will be a great gift to it."
Many will appreciate Forrest's fierce focus and intention that she brings into every aspect of practice, from meditative body scans to bridge pose, from locust pose to lunges, guiding attention and awareness of the body just as much as providing clear and concise cues for alignment and anatomy. "Take a deep breath into your back, feeling what it does," she says. As she guides students into preparing for a lounging lizard pose with their choice of props, she gently offers a reminder of common sense: "For a few of you, as you're doing lounge lizard, this hurts the bottom hip bone. That is your body's way of saying, 'pad me.' You put some extra padding under your hip."
Healing of both the body and mind requires honesty and tough love, though, which Forrest is not afraid to give. She asks students to "get bone marrow honest" about the excuses we use that inevitably block us from the energy of healing. Yet, she encourages us to tap into the collective energy we co-create in the sacred yoga ceremony by bringing our best quality of attention—even while we're at home, tuning into her class months or years later online.
I suggest using the big screen for her live recorded classes, which give you a better sense of her big personality and show the many students she is teaching in great detail, while also revealing her attentiveness as a teacher with a certain degree of intimacy. As she takes her students through upper body stretches, Forrest asks one woman if she is not fully straightening her arm during a wrist stretch because it bothers the neck. With the dynamic yoga teacher's face up close and personal on the big screen, it feels as if she is addressing me personally. I follow her instruction as she says, "Just very gently, honey, loosen your jaw, back and forth, back and forth—just a little bit…So you start to undo that lock up that you do in there." I was delighted by how immediately it worked to loosen up both my jaw and my neck. I look forward to experiencing more healing as I continue to work my way through my Anna Forrest Yoga downloads.
Taking Time to Relax and Stretch With Yin Yoga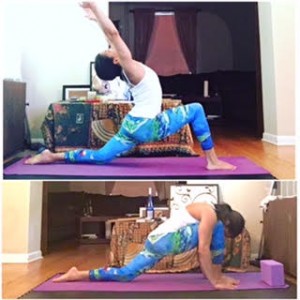 If time is a key factor for your yoga session, several classes offer multiple options for class length–from 25 minutes to an hour. However, I would suggest you to check the actual running time of the video before you plan out your practice. Elise Fabricant's 25 minute Yin Yoga class, for example, actually clocks in at close to 39 minutes; the 35 minute class is closer to 44 min; and the 45 minute class is 55 minutes. The more accurately timed, hour-long class features a longer, more extensive warm-up; the meat of the sequence doesn't start until 11 minutes in. In the "25 minute" class, non-meditative poses start around 3.5 minutes in. The poses are demonstrated by an older woman, who is a more flexible, experienced practitioner, and by a younger man, who demonstrates pose modifications for the less flexible or beginning practitioner. Elise Fabricant audibly instructs the class in a calm, soothing voice and accessible language.
She says that yin yoga gets practitioners to think about poses from a new perspective by assigning new names to familiar pose shapes. The lunge shape is called dragon pose and is intended to create "a nice, deep, tuggy sensation" in the forward hip.  Rather than shifting the weight forward to lift the chest and shoulders up and back, as one would do in the Anjaneyasana of other styles of yoga, the yin yoga interpretation guides you to lean forward into the hips and to rest the upper body completely over the front thigh, letting the head hang down and taking weight off the wrists. Fabricant explains, "Instead of reaching, striving, lengthening in this lunge, we're allowing, almost collapsing, completely relaxing here, allowing time to start to open the left frontal hip flexor." The emphasis on my lower body freed it to do most of the work, and I found that I was able to concentrate much more on the opening of the hips. By focusing the breath in the stillness of the pose, I found the practice more meditative—and also more physically taxing on the connective tissues of the body, the stimulation of which is the intended focus of yin yoga. Even though several poses in this class are part of my daily yoga practice, I found my muscles and tendons more challenged because yin yoga holds these shapes for a much longer period of time.
Yoga Download Offers Your Choice of Diverse Classes
Yoga Download gives you the freedom to explore the vast variety of yoga styles to see which suits you best. You might sample the graceful flow of the Hatha yoga-based Anusara, the intense Vinyasa of Ashtanga and Baptiste Power, the soulful devotion of Bhakti yoga, the aligned precision of prop-heavy Iyengar yoga, the rigor and philosophical focus of Jivamukti Yoga and the active relaxation of Restorative Yoga. Benefit from the expertise of yoga therapy with classes such as Therapeutic Yoga for Wrists, Shoulders and Neck, which can be done at your desk. There are a variety of yoga classes you can do in the office or from a chair for the less mobile. There is partner yoga, prenatal yoga and kids yoga. For athletes, their are classes geared for your specific sport. You can also challenge your core with Mat Pilates or enjoy the fusion of pilates and yoga.
The site offers five different levels of instruction: Beginner, Experienced Beginner, Intermediate, Advanced-Intermediate and All Levels classes. Experienced Beginners know basic poses and have had an introduction to proper alignment. Intermediate students have knowledge of poses and proper alignment, while also understanding the critical link between breath and movement. Advanced-Intermediate students practice yoga regularly, while having a solid foundation in beginner poses and a familiarity with more advanced ones.
Users can also select their desired pace, or intensity. Starting from the lowest intensity, Ahhhhhh classes are designed to be relaxing and restorative, freeing the practitioner from tension and stress. Everyday Namaste classes are low intensity. Turn the pace up a notch with You'll Feel It medium-intensity classes. Finally, get the heart pumping hard and work up a sweat with the high intensity workouts of the aptly named Bring a Towel classes.
Take Yoga to the Next Level With The Kaivalya Yoga Method
For those looking to take their yoga to the next level and potentially teach, Yoga Download also offers the Kaivalya Yoga Method Teacher Training. You can preview the teacher training for free with the full syllabus and four sample modules that introduce you to yoga anatomy and proper alignment for the most foundational pose (Tadasana), safe sequencing guidelines, the basics of prana and pranayama, the art of asana adjustments, yogic philosophy, the power of Om and basic meditation. Each sample module also includes a quiz to test what you've learned along the way. The Kaivalya Yoga Method, devised by Alanna Kaivalya, is a style drawing from Ashtanga and Jivamukti lineages that encourages joy, freedom and harmony through intelligent sequencing, precise hands-on adjustments and heart-centered yogic philosophy, can also be experienced through the dozens of classes Kaivalya teaches that are open to Yoga Download subscribers.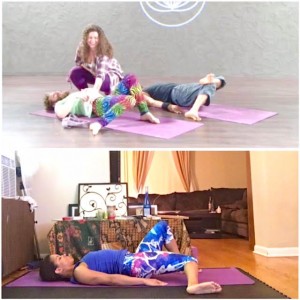 Kaivalya's "Rid Yourself of Back Pain: An Essential Sequence" is tailored to unwind knots of tension and relieve pain of the lower back with a focused sequence that can be done multiple times throughout the day. All you need is a yoga strap and room to lie down for the 12-minute class. Fortunately, it was easy to log into class on my laptop, which I could bring to my yoga space, which has ample room to stretch out.
I would caution not to  think this brief class will necessarily be a breeze. The last exercise of the series internally rotates the hip, which Kaivalya points out is rarely done in yoga, so she encourages practitioners to spend extra time in this shape. She says this is probably the most important stretch of the series in releasing the musculature of the hips, particularly of the deepest core muscle–the psoas.
"When the psoas releases, it tells the rest of the muscles here in your powerhouse to relax and soften. And that's what's going to alleviate your back pain," Kaivalya explains. While there are numerous causes of lower back pain, she promises this series of hip stretches done regularly and frequently will help to alleviate the pain until the true source of the problem can directly be addressed.
"One of the things that's at the heart of [back pain] always at the heart are muscles around pelvis that have seized up in order to hold us together," Kaivalya explains. As a result, relaxing tight hamstrings and opening up tight hips are key to alleviating back pain. If you are like me, these exercises will deeply stretch and challenge your tight muscles. Students tend to strain when muscles are challenged, getting sloppy with their form. Thus, Kaivalya gives frequent reminders to flex the feet to protect the knee or to back up a stretch in order to maintain proper alignment of the hip. She is keenly aware of the importance of alignment in her instruction, providing both verbal cues and visual adjustments on her yoga class models to ensure folks are home are practicing safely and effectively.
This post was made possible by Blogger Babes and contains affiliate links. I received a complimentary subscription of the Yoga Download service in exchange for my honest review. Thoughts and opinions are 100 percent my own.