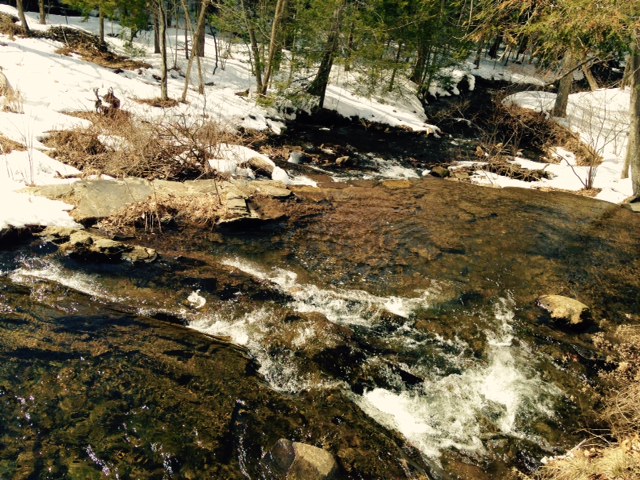 Lately, I've been feeling like I'm barely treading a rising tide of roiling waters. I'm just emerging from almost two months of being shut in due to a nasty respiratory infection that wouldn't quit and to relentless storms leaving several feet of snow that refused to melt in persistently freezing temperatures. Yet the cloudiness of sinus pressure and brain fog lingers, and dystonic episodes threaten, as I attempt to tackle the tasks of the day. There's more than enough to keep me busy—write articles, follow-up with potential clients, conduct interviews, practice yoga, read and review books, research classes, workshops and publications, and continually expand my knowledge in my myriad pursuits and passions. The overwhelm facing all these things on my plate has also been threatening to paralyze me for the past couple weeks now, not knowing how to pause for a breath, where to put my primary focus and when to dig in. Physically drained, mentally overwhelmed and spiritually running near empty—and tired of hearing my whiney inner dialogue—yesterday I decided I needed a reboot.
With the sun shining and my car finally home and running after a couple months of winter retirement, I decided to take a needed self-care day. I couldn't take jumping back and forth between a dozen active windows on the computer screen any longer. I slipped on my new Ailie Casual Walker Mary Jane shoes by Vionic; they were made for walking, so that's just what they would do.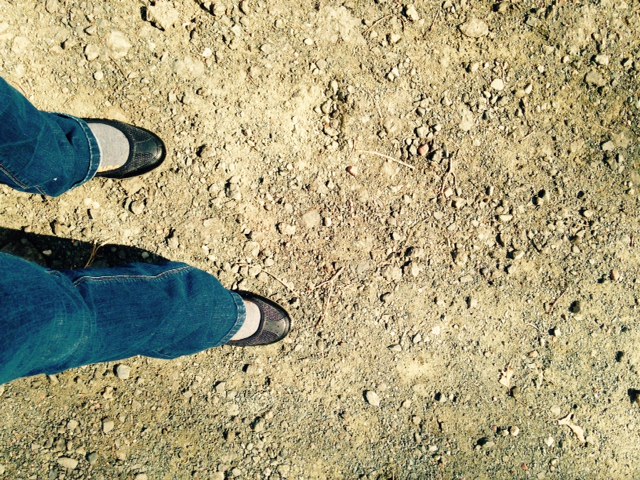 After running several errands in the tri-town area, I decided to hit a couple of my favorite haunts. I investigated what was new, tasty and healthy at a favorite local health food store, curiously grabbing some flyers on intriguing holistic classes and workshops in the area as I made my way out the door. I felt the giddy excitement of a schoolgirl bookworm as I perused the shelves at the library, ever on the alert for books to stimulate my mind and nurture my imagination. Finally, my spirit cried out for some attention and nourishment, so I found myself driving to a small, yet scenic park where I have had several enjoyable nature adventures.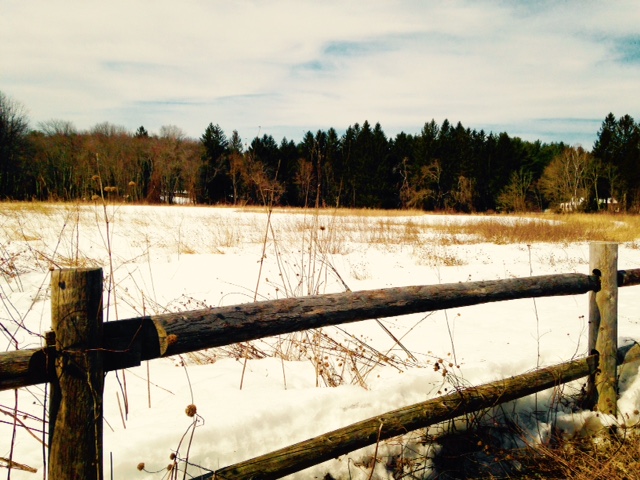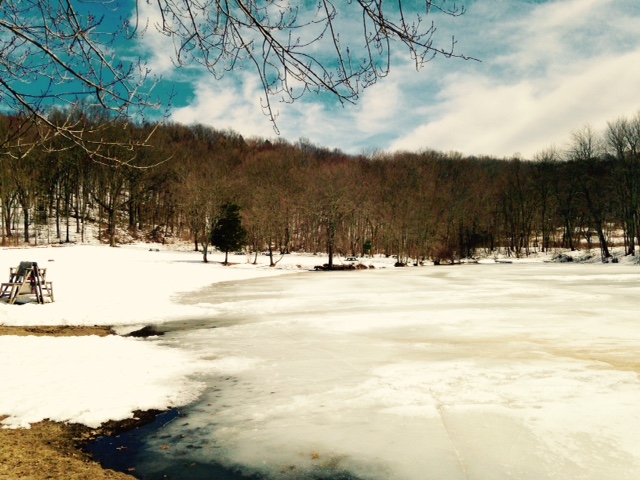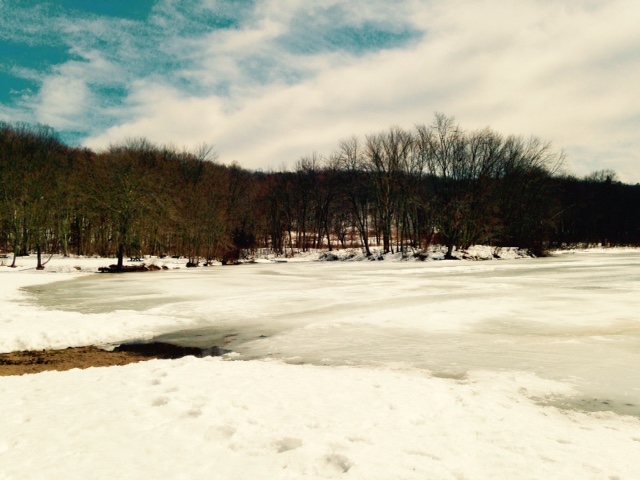 The grounds were still covered in snow and the lake was mostly frozen, but the park's beauty prevailed. Trees lined the horizon and playful clouds dotted the sky. I slowly made my way down to the water, hopping from grassy patch to grassy patch. My shoes weren't exactly designed for squelching muddy terrain, but they held up rather nicely. Leaping before I looked, the open-faced Mary Janes were splashed by waterlogged grass in one small region, but the bright sun quickly dried my socks.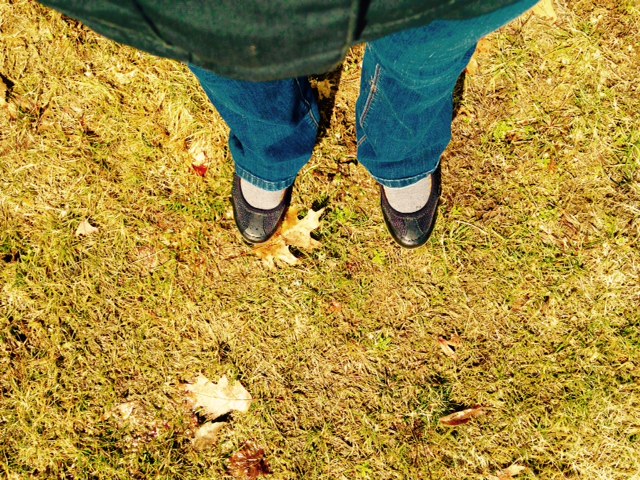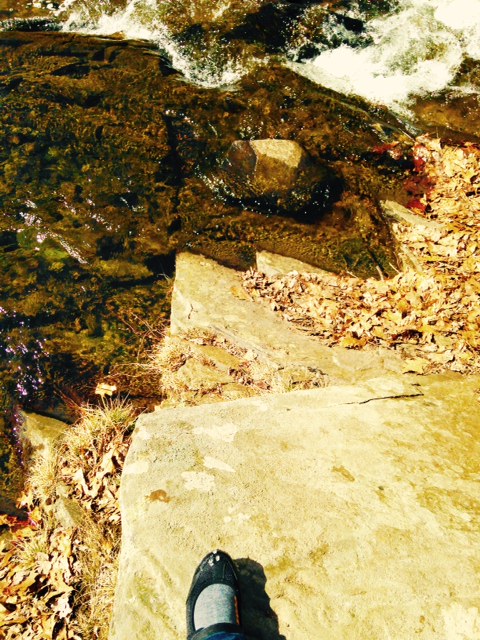 By the time I made my way over to the modest yet bustling waterfall, I was pleasantly surprised to find that the rock face surrounding it was dry and warm. I climbed atop a rock mound and sat watching the scenery for a while. I deeply breathed in the earthy aroma and reviled in the quietude of being alone in nature. My mind was blissfully free from dizzying thoughts, totally present in the moment; only pausing to reflect on the beauty of solitary snow prints tracing the lake in the snow or to listen to the soothing rush of water nearby.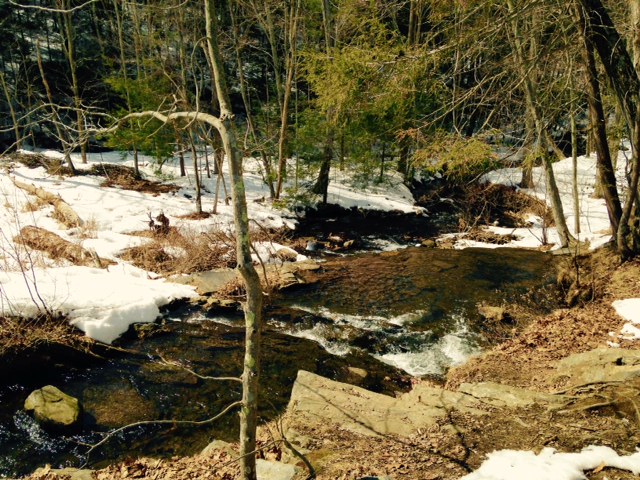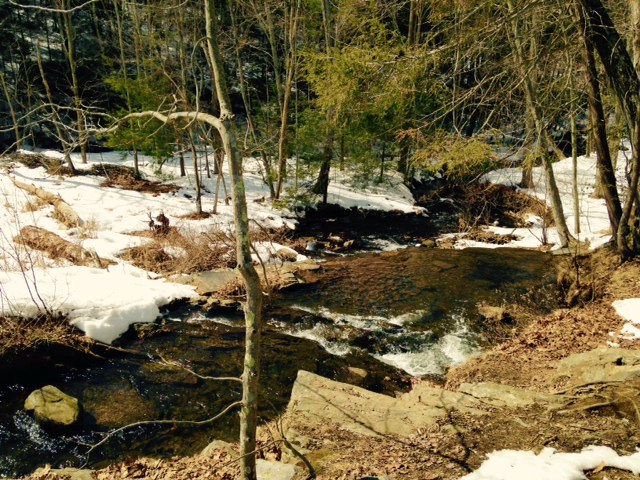 At last, I stood and inhaled an invigorating breath of fresh air. It had been far too long since I last could do so without feeling the cut of an icy breeze or having my cough-tattered throat and wheezing chest ache in complaint. I walked as close to the waterfall as I could, getting good footing on a mostly flat surface of gray rock. While I'd already taken a few photos of nature's beauty, I decided I wanted to capture my joy of the moment embracing the outdoors. I wanted to be able to look at that expression of peaceful bliss during those times when life once again threatened to overwhelm me.
Spanish poet and philosopher George Santayana once wrote, "The earth has music for those who listen." It made perfect sense to me, thus, to pay tribute to nature's song with dancer's pose. I was pleased to discover that I could even find my balance—inside and out—there on that uneven rock.
The sounds and visions of nature were what my spirit had been secretly craving for so many weeks. I found, to paraphrase Byron, pleasure in the pathless woods and rapture on the lonely shore. I felt inner peace returning to my soul as I breathed the air and drank from the "tonic of wildness" of which Thoreau speaks. Rejuvenated and grounded once again by nature, I am able to face my life head-on once again.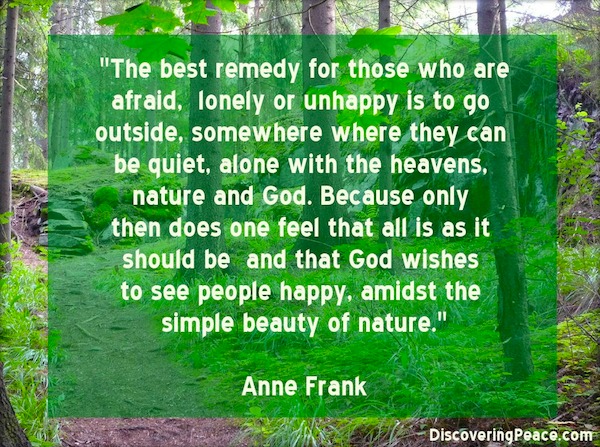 Thanks to Vionic Shoes for letting me try out these new stylish, yet active Ailie Casual Walker Mary Janes. I am pleased to report that I can stand and walk for hours in these without aching feet or knees, a very common concern with my über flat feet. Even better that they give me enough support and flexibility to do yoga in them! Vionic shoes feature a removable orthotic footbed that supports feet and helps realign the lower legs, improving posture and balance.  Find the Ailie Mary Jane and other active shoes for women online at Vionic.