Last month, romantic love was celebrated across the nation and in other parts of the world. Today, Mind-Body Shift takes time to honor the gift of unconditional love, the expression of caring for others without the expectation of reciprocation or reward. MBS especially celebrates the people who selflessly care for others living with debilitating chronic disease, particularly the caregivers of people living with Alzheimer's.
"Especially in February, the month of love, so much of love is thought of as romantic love. That's important too for us to experience, but at the same time, the greatest love is unconditional love," said Kailen Rosenberg, an expert on the subject, known as the Love Architect. "It's a love that comes from every bit of our being in times that are not easy, that are difficult, that we're not expecting."
More than 15 million people offer unconditional love by providing unpaid care to a relative or friend with Alzheimer's and other dementias. According to the Alzheimer's Association, 65 percent of caregivers are women. Betsy Broyles Arnold, along her twin sister, Linda, became the primary caregiver to their mother, who lost her battle with Alzheimer's in 2004.
Arnold, whose father is the football icon Coach Frank Boyles, moved her family home from Texas to Arkansas to take care of her mother more than 10 years ago. "It was a very interesting experience. All of a sudden you're in a role reversal," Arnold said in a recent interview, describing the shift from the role of child to suddenly caring for a parent. "It's difficult, and it's emotional."
An estimated 5.2 million Americans have Alzheimer's disease, with one in nine people over age 65 in the United States living with this debilitating neurological disease. It is the most common form of dementia, making up 60 to 80 percent of cases, according to Alzheimer's Association. It is caused by damage to the brain cells, which creates interference with people's ability to communicate with one another. Dementia describes a constellation of symptoms associated with a decline in memory and other mental faculties—like communication, reasoning and ability to focus—severe enough to reduce a person's ability to perform everyday tasks.
As a progressive disease, Alzheimer's symptoms gradually worsen over time, and most people with the disease live an average of eight years after developing noticeable symptoms. Alzheimer's is the sixth leading cause of death in the United States, In the early stages of the disease, memory loss is relatively low. However, people with late-stage of the disease eventually lose the ability to carry on conversation and respond to their environment.
"One of the things that's important for people to know about this disease is that [those with it] do live moment to moment to moment. And so you have to ask yourself [as a caregiver], what moment are they in? As the disease progresses, their age regresses, so you're dealing with someone who is going back in time—and that's difficult too," explained Arnold.
Rosenberg notes that people are not usually prepared to care for someone with Alzheimer's "Most don't think that they'll be in the situation where they will be taking care of someone, especially a parent, where that role reversal is taking place," she said. "Especially with Alzheimer's, it's so important to find and to seek as much knowledge and understanding of the disease, of the best ways to take care of the loved one that you have, or someone that you know is taking care of someone who is struggling with Alzheimer's."
Rosenberg recommends AlzheimersUnconditionalLove.com as a great online resource for learning about the disease, as well as providing support. "As with everything that has to do with love, we're trying to understand it and how to best give it," she said. "We need to be okay asking questions and being excited and open to getting the answers."
There weren't a lot of resources about the disease for Arnold when she was caring for her mother many years ago. "So we learned by trial and error. That's what goes along with this disease," she said. "Education is power, so I cannot stress enough, as my dad, would say, 'There's no substitute for good preparation.' That's just critical with this disease."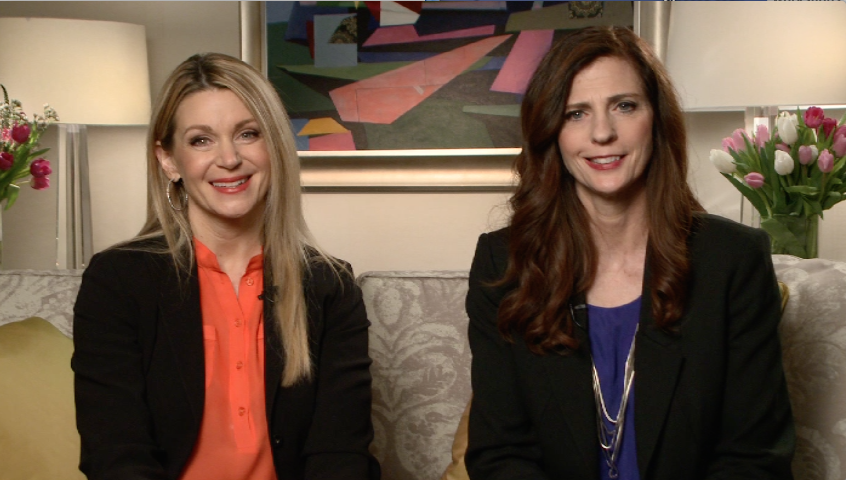 Both Rosenberg and Arnold emphasize the importance of caregivers doing everything within their power to learn and understand about the disease. "It's so important to educate yourself because you're dealing with someone who's not only losing their memory, but their reasoning, their judgment, and ultimately language," said Arnold. "To be a good caregiver, you have to understand this disease."
Being a caregiver to someone with Alzheimer's requires a lot of patience, understanding and unconditional love. Unconditional love is "an ultimate act of selflessness. It is putting your ego aside," said Rosenberg, author of Real Love, Right Now. "It is showing up in ways you didn't know or think you were capable. But you kind of feel it in the moment, and you just trust it and you go with it. There is no greater gift to give than really all of our selves and our love to one another. We're blessed and filled up by doing that, and so are the people that we're loving on and taking care of."
Rosenberg, stresses the need for more support to caregivers, so they do not have to feel like they are in it alone. She urges loved ones to ask caregivers what they need and to encourage them not to be afraid to receive. "It's so easy to give and give and give and love on others and forget about one's self. In order to give our best, there has to be a healthy balance," she reminded. "Like they say, 'it takes a village to raise a child.' I think it takes a village to love on one another and be a support to one another. We need to keep everyone in mind because it does affect everyone. But we can all be there for each other."
Both Rosenberg and Arnold have great respect for people who devote their time and efforts to care for loved ones, referring to them as unsung heroes. "But then you have some other unsung heroes, and really, that's the kids," added Rosenberg.
Arnold's children were adolescents when she moved the family to take care of her mother. "I had my children who were 12 and 13 years old, and then my mother," she said. Her kids also needed her attention, time, energy and level, but she needed to put more of her focus on her mother, which filled her with guilt at times.
"It's important to have that unconditional love from your family too, because they need to understand what you're going through, and the choices you have to make–because whenever my mother needed me, you know, my mother always won. And so, I think that was a hard place to be," she said.
Sounding much like her coach father, Arnold added, "But your attitude is your greatest asset. You just have to look at this in a positive way, and that it's for a season. It's a labor of love, and that's why you do what you do—that unconditional love you have for the person you're taking care of."
Her experience with her mother led Arnold, her sister and father to create The Frank and Barbara Broyles Foundation to help families and caregivers who are caring for a loved one with Alzheimer's. Learn more at www.caregiversunited.com.
[youtube https://www.youtube.com/watch?v=4EvOxo9eRns]