Everywhere we turn, old beauty ideals are being shattered and redefined to embrace the magnificent diversity of humanity. Nose-pierced, tattooed Tess (Munster) Holliday is turning heads as the first size 24 woman signed to a major modeling agency, and last week's Sports Illustrated Swimsuit Issue features a plus-sized supermodel (albeit, in an ad) for the first time. Supermodel Carmen Del'Orefice graces the latest cover of New You magazine at the glamorous age of 83. Also, people are currently praising the release of a non-retouched photo of 48-year-old Cindy Crawford in lingerie for being both realistic and beautiful, stretch marks and all.
Lest we think only supermodels are reshaping ideals of beauty, history was made this past week, when actress Jamie Brewer became the first women with Down syndrome to walk down the runway during New York City's Mercedes-Benz Fashion Week. Brewer, also an activist for intellectual disabilities, was part of the "Role Models Not Runway Models Campaign" that designer Carrie Hammer founded in 2013 when first asked to display her line at Fashion Week. Rather than use professional models for her show, Hammer decided to represent the women who bought her designs by featuring inspirational leaders and pioneers who were her clients and friends. That first year, wheelchair-bound psychologist Danielle Sheypuk graced the runway in another Fashion Week first, inspiring Karen Crespo, an amputee who lost her four limbs to bacterial meningitis, to take the stage in prosthetics in Brewer's Fashion Week show a year later.
"Beauty lies in our differences. There isn't one slim ideal beauty, but that's what fashion has become all about," Hammer said in TODAY.com. "My line is all about highlighting the beauty in the differences, and making sure that the women feel confident and beautiful in their individualities."
Toy designers are also giving young girls greater access to body-positive dolls that look more like real people, no matter their size or skin color. Barbie, the glamorous and immensely popular, yet homogenous and unrealistically proportioned, doll is being subverted by shorter, curvier and customizable Lammily dolls (with the proportions of an average, 19-year-old American woman). In Nigeria, Barbies are being outsold by a Queens of Africa line, which look more like the brown-skinned young girls who play with them. It is heartening to know that young girls are exploring identity and life's possibilities with figurines that are increasingly reflective of real people like them.
All these things give hope for a more body-positive culture that encourages self-love over fretting over unattainable perfection. Yet some conversations taking place across the Internet emphasize that's there is still plenty of room for improvement regarding body image.
A fellow coach who specializes in body image recently wrote an affirming post about healthy people coming in all shapes, emphasizing that clothing size and numbers on a scale alone tell nothing of a person's fitness level and proportion of muscle. She said that appearances can be deceiving when it comes to health, pointing out that some overweight people may be more fit than the "skinny fat" (whose unhealthy diets or lack of exercise cause them to store visceral fat around organs, putting them at high risk for cardiovascular problems and diabetes, btw). I wholeheartedly agree that being healthy is certainly less about "a look" and more about consistently staying as active as possible and making smart decisions about the food one puts in the body.
Strong is the New Skinny
However, some of the comments on this body-positive coach's post sank my spirits. One man posted the following:
We've all heard the new catchphrase, "Strong is the New Skinny." It is encouraging to see a move away from the pill popping and starving-to-be-thin ideal and people aiming for strength and fitness. I love seeing women who are proud of how much they can lift and excited to see their own bulge of muscle. Yet it's important to realize that women can be strong and build muscle at any size.
Part of what disturbs me about the "Strong is the New Skinny" movement, and this man's negative comparison, is the presumption that all thin women are unattractive and that the state of slenderness is always attained through deliberately unhealthy means. There are naturally slender women who may remain firmly a size 0 no matter how much food they eat and no matter how many pounds they try to gain. Further, a size 0 isn't always skinny as bones. It can definitely still be strong and fit, shapely and sexy.
Strong is the New Sexy–Or is It?
In our blame and shame society, perhaps it is too not surprising that the proudly fit are also being negatively called out. With the intent of inspiring other moms to make health a priority, fit moms like Maria Kang of the U.S. and Abby Pell of the UK have used social media to show everyday women that even full-time working moms with no nannies, who are not naturally skinny and struggle with weight, can get fit and healthy with dedication and hard work. Kang, for instance, has encouraged moms to be creative and flexible with their time; for example, working out with their kids or splitting up their workouts throughout the day. Yet a large percentage of comments on these fit moms' posts has been negative, accusing the women of bullying and putting more pressure on mothers who are already expected to do it all.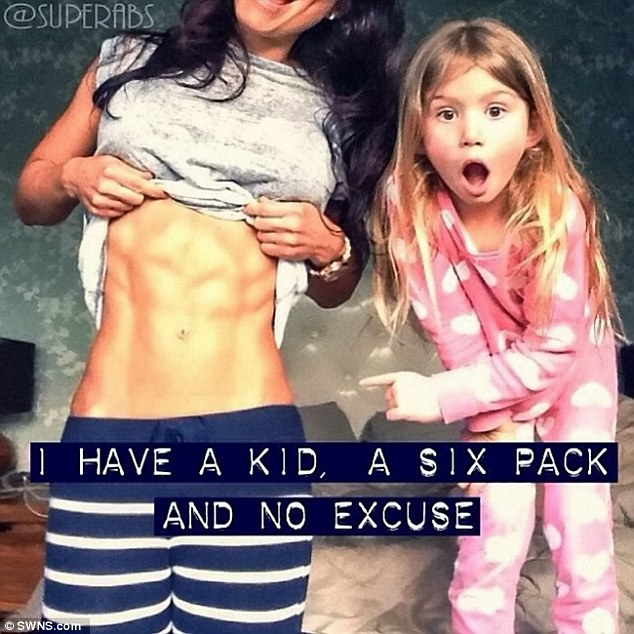 Many have interpreted the catch phrase, "no excuses," as a message that implicitly shames fat people. Pell—whose post said she had no excuse for not getting in shape—is a single mom with a 6-year-old daughter who was "on the heavier side" and unhappy with restrictive diets. After gaining a lot of weight during pregnancy, she struggled to shed it after her daughter was born. Once she started lifting weights, she was amazed by how quickly she was able to lose weight and build firm and toned muscle. Bell believes that simply being a parent isn't an acceptable excuse for not being fit if that is your goal. Her intent was never to offend but to encourage others to get in shape and feel healthier.
At the time of her controversial "What's your excuse?" Facebook post in 2013, Kang was a business owner and mother of three, with a husband who had suffered a traumatic brain injury in Iraq. A former bulimic, she grew up with an overweight mother who missed her wedding for health reasons. Kang has repeatedly said the aim of posting the photo of her fit self with her three young children was to encourage women to make fitness and health a priority in their everyday lives , even with all the other things going in their lives.
Kang has since formed a No Excuses Mom Movement to provide free workout groups in local communities from moms around the globe. It also published a calendar this year of moms with all different body types. Additionally, Kang is set to launch her first book, The No More Excuses Diet, on March 10.
Despite their good intentions, one gets the sense that there would be similar backlash no matter what message accompanied these fit moms' photographs. With social media on a constant stream, proud posts meant to inspire can easily come across as bragging—and shaming to those reading between the lines.
"What you interpret is not MY fault. It's Yours. The first step in owning your life, your body and your destiny is to OWN the thoughts that come out of your own head. I didn't create them. You created them," Kang wrote on Facebook in the thick of the controversial comments. "So if you want to continue 'hating' this image, get used to hating many other things for the rest of your life. You can either blame, complain or obtain a new level of thought by challenging the negative words that come out of your own brain."
Stamping Out Body Shaming
The solution to the pervasive body shaming in this culture is not to shame other body types. One should not need to make another feel small to make one's self feel big. Negatively comparing ourselves to others is what drags our evolution toward broadening beauty ideals to a halt, whether we're assessing and rating selfies on social media (#dreambody) or we're admiring celebrities in a magazine—the vast majority of whom have make-up artists, stylists, full-time trainers and nutritionists (as well as the help of computer manipulation), to make them look as good as they do.
Last year, the slim and striking Keira Knightly made waves by posing topless and untouched by Photoshop for a magazine photo shoot. "I've had my body manipulated so many different times for so many different reasons, whether it's paparazzi photographers or for film posters," Knightly—whose breasts were enlarged, to her surprise, in a film poster for King Arthur in 2004—told The Times. "And [this shoot] was one of the ones where I said: 'OK, I'm fine doing the topless shot so long as you don't make them any bigger or retouch.' Because it does feel important to say it really doesn't matter what shape you are."
She's one of many noted celebrities taking a stand against the use of Photoshop, which not only makes them look unlike themselves but unlike real people in general.
[youtube https://www.youtube.com/watch?v=GXoZLPSw8U8]
Real Women and American Beauty Ideals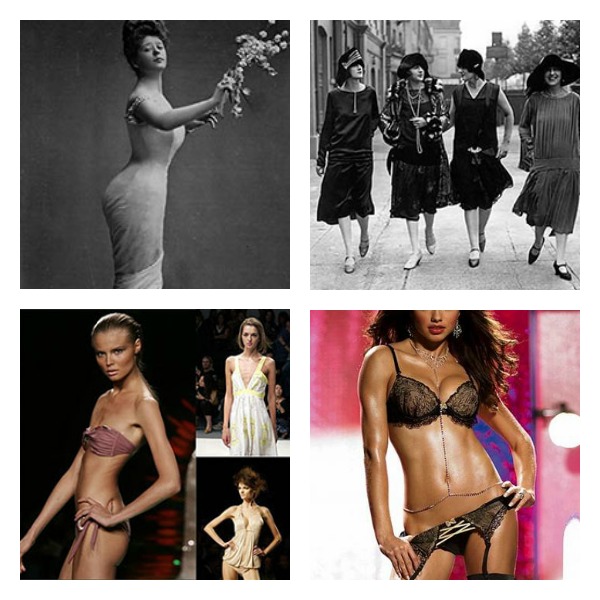 While only 5 percent of American females naturally possess the body type portrayed in advertising—the vast majority of which is digitally manipulated in print and online—ANAD cites that 69 percent of surveyed girls in 5th through 12th grade said that magazine pictures influence their perception of what is the "perfect body," and half of them said these images make them want to lose weight. Studies report that 46 percent of girls aged 9-11 are dieting, and more than half of teenage girls are taking unhealthy, restrictive measures to control their weight. Is it any surprise that, with an estimated 91 percent of women are unhappy with their bodies and diet to achieve an ideal shape–including mothers, that 42 percent of first- to third-graders want to lose weight?
The size difference between the women in the media and average women in real life is ever increasing. According to Rehabs.com, the typical model of 20 years ago weighed 8 percent less than the average woman; today's models weigh 23 percent less. As the American population has increasingly gained weight, most plus-sized models of today, ranging between size 6 and 14, are no longer representatives of the average woman, half of whom are now a size 14 or larger.
The fluidity of our beauty standards over the years is greatly apparent in any close look at America's cultural history. The ideal has swung from the hourglass figure of the Gibson Girl in the early 1900s to the boyish, flattened figure of the '20s flappers, and from the athletic, yet shapely, ideal of the '80s to the pale and unhealthfully skinny look of the Heroin Chic '90s. Today, the ideal has morphed into a long, lean and leggy, yet busty, look.
"But I think the first real change in women's body image came when JLo turned it butt-style. That was the first time that having a large-scale situation in the back was part of mainstream American beauty," writes comedian Tina Fey inn her book Bossypants. Fey further draws attention to the unrealistic litany of physical attributes American women are currently expected to have in order to be considered beautiful: "Now every girl is expected to have Caucasian blue eyes, full Spanish lips, a classic button nose, hairless Asian skin with a California tan, a Jamaican dance hall ass, long Swedish legs, small Japanese feet, the abs of a lesbian gym owner, the hips of a nine-year-old boy, the arms of Michelle Obama, and doll tits."
Is Self-Love the New Sexy?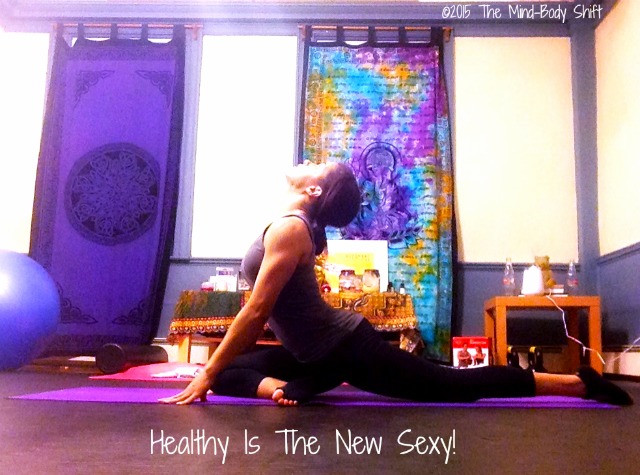 It sounds so ridiculous—because it is. Yet these unrealistic expectations and array of perfect attributes are sadly the sought-after ideal for many struggling with self-confidence and self-love. It's long past time for us to be living the message of Tess Holliday's #EffYourBeautyStandards movement, appreciating every body as a beautiful one. "Never compare yourself to others and celebrate what makes you, YOU," she writes on Instagram. As a culture, we need to start loving, embracing and celebrating the young of all genders, colors, shapes and sizes.