The highlight of my weekend was to have my mother accompany me to see Menopause, The Musical at the Fox Theater on Saturday afternoon at Foxwoods Resort Casino. It was a great time to connect with my mom and better understand her experience with menopause. Having many of the most common symptoms of menopause, she could relate extremely well to the dialogue and songs.
"They had creative lyrics that were familiar to menopause-age women," she said.
Few aspects of menopause were left unexplored. Subject matter ranged from hot flashes and night sweats to weight gain and wrinkles, from sleep problems and memory issues to mood swings and midnight hunger. Scenes also dealt with changing physical beauty, confounding and critical mothers and sexual frustrations.
With witty, menopause-centric lyrics set to classic songs of the past, the Bee Gees' "Staying Alive" becomes "Staying Awake," their "Night Fever" becomes "Night Sweatin'," and "The Great Pretender" by The Platters is made over to reflect how the women mask their forgetfulness, "pretending there's no brain collapse." Each of the four woman is on some form of pharmaceutical or herbal medication for depression and sharp mood swings, turning the Beach Boys lyric, "I wish they all could be California girls," to "I wish we all could be sane and normal girls." Referring to menopause as The Change of Life, the tune "Chain of Fools" is rewritten with lyrics such as:
Chain Chain Change
Change of life.

For five long years,
I thought I am losing my mind,
but I found out no….
It's just a part of the change.
My body tried to warn me–
The signs weren't too cool.
It's treated me mean,
It's treated me cruel…

One of these mornings,
the change will be through,
but until then–yeah,
I'll do what I can do…to cope with
Chain Chain Change…
The diverse cast featured a commanding, black professional with a shaven head, known as Power Woman; the demure (and dotty) Iowa Housewife in an ill-fitting pastel blue suit; the meditating Earth Mother in long, flowing layers; and the high maintenance Soap Star, who hates to face the inevitability of growing older. The women sang and dance individually, as well in the coordinated style of the vocal harmony groups of the '50s as an ensemble.
From one scene to the next, different singers were featured. "You didn't have to grow weary of any one actress/singer," my mom said. "There were also entertaining stage and costume changes."
On the set throughout were the "elevator doors" of Bloomingdales, but set changes distinguished different floors of the store, featuring a dining area, makeup counters, a hairdressing salon, a section of hair and clothing accessories, bathrooms, lingerie department and dressing room.
The women performed country line dancing to "Lookin' for Food" (a retooled version of Johnny Lee's classic of 1980 "Looking for Love") "My Husband Sleeps Tonight," was to the tune of "In the Jungle," where the women hammed up the African roots of the song with their dancing styles and extraneous whoops. They played a wooden spoon against a cutting board, salt-and-pepper shakers, a cheese grater and umbrella. "Same and Normal Girls/Thank You Doctor," ends with the women all playing air instruments, with Iowa Housewife completely rocking out on her drum solo finale. The song to their mothers, "I'm No Babe, Ma" ended hilariously with the girls dressed up as either Cher or Sonny, with the appropriate wigs and singing swagger.
The knockout hit of the show was easily "What's Love Got To Do With It?" The Tina Turner classic was revamped to address the sexual frustrations of the prim Iowa Housewife. The Power Women donned a spiky Tina Turner wig over her shaven head and slipped into a tight, mini dress and soulfully led the others in encouraging the modest woman to take matters into her own hands. The song led in and out of an altered cover of the Beach Boys' "Good Vibrations."
While each performer brought something special to her role, Iowa Housewife shone for her expressiveness, fully embodying her character, from the meek yet emotionally open demeanor (including pipsqueak speech) to her transformation into a more confident, independent woman with a deep and powerful singing voice. Power Woman also continually impressed with a big, beautiful, soulful voice that did not waver.
The show wrapped up with the ensemble piece, "This is Your Day," where the women, clad in black evening wear, sang about positivity and the power of having support during menopause and aging. Approximately 40 women of the audience going through or having gone through the Change came up on stage to do line kicks with the cast.
"I thought the format of the musical was unique," my mother said. "Part musical, part play, but really not either one."
It felt like a concert with content-filled context. A musical with an empowering message of solidarity. In sum, Menopause, the Musical was an entertaining, relatable show with great singing, fun dancing and lots of laughter.
Following the musical, dinner reservations had been made for us at David Burke Prime Steakhouse. The restaurant got everything right—from sleek, yet playful modern décor, very affable and accommodating wait staff to most importantly, amazingly delicious food.
We started off with lobster bisque, where lobster parts had been soaked in the creamy sauce before green apples were added to bring bursts of tart sweetness to the rich and flavorful dish. By far, this was the best bisque I've ever had, which is saying quite a lot. We followed that with David Burke's Pretzel Crusted Crab Cake, with a delicious, smooth, tomato marmalade and poppy seed citrus glaze. These two generous appetizers filled us up, but we still had the entrée coming.
Dinner was Stonington Seared Scallops, diver scallops fresh from Stonington. It was served with a creamy, cheesy side—made up of cheese-crusted breadcrumbs, cream of corn, bacon, green peas, and roasted tomato—that melted in your mouth. While my mother thought the scallops were too salty, I thought they were perfectly flavored and cooked, as was everything else we'd eaten so far.
Dessert was pure indulgence with a molten chocolate cake topped with raspberries, which our waiter confirmed was a brilliant selection. (Our second choice was traditional carrot cake with cream cheese icing, pineapple sauce and a drizzle of white chocolate—yum!) The moist chocolate cake—not too bitter, not too sweet—had a dark chocolate truffle in the middle, which was lusciously gooey by the time we got to it. Instead of coffee gelato, we had vanilla gelato on the side.
We are immensely grateful to Foxwoods Resort Casino for making this Girls Night' Out an unforgettable experience for my mom and me. The place keeps growing and expanding as the years go by, and it's a truly lovely, fun-filled place to spend time.Thank you so much for making us feel like queens for a day! I'm looking forward to another Staycation here very soon!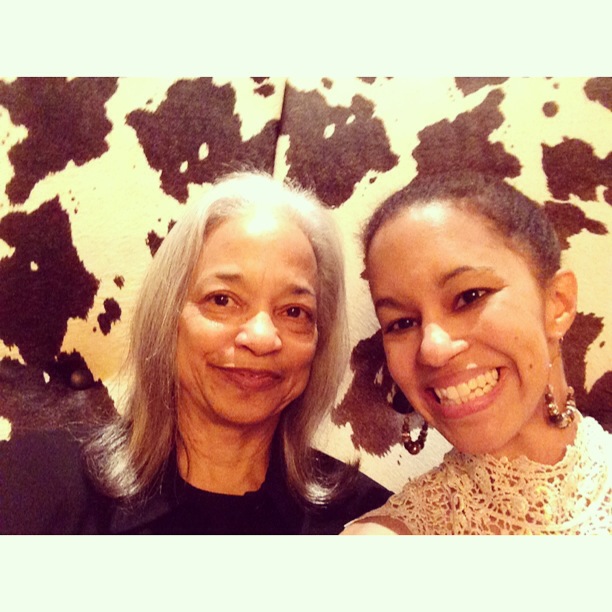 Queens for the night at Foxwoods