It really is quite amazing that a type of the seeds that sprout from atop the Ch-Ch-Ch-Chia Pet, a holiday commercial mainstay, have grown into the latest superfood. The seeds from the Chia pets, laden with pesticides, are "not fit for human consumption," said Dr. Jack Bukowski, of the Nutritional Science Research Institute, on faculty of Harvard Medical School, in an interview with Dr. Mehmet Oz on Oprah Radio. However, the edible chia seed, meeting proper agricultural standards, is packed with nutrition and numerous health benefits.
The chia seed comes from the Salvia hispanica plant, grown in the deserts of southern Mexico. Before the Spanish conquest banned the seed due to its close associations with Aztec religions rituals, the chia was a staple in the diet of the Aztecs and Mayans, as a source for energy and stamina.  Now the chia seed is making a comeback as a superfood as commercial production of it has resumed in Latin America.
Proponents of the chia seed report increased energy, improved digestion, more stable blood sugar and better skin tone, among other health benefits. Independent Tribune reports that the seeds are believed to improve cardiovascular health and "help the rise in insulin levels due to insulin resistance in a sucrose-rich diet." Dr. Oz said there is also evidence that eating chia may reduce visceral fat, which can lead to diabetes. According to NaturalNews.Com, a study published in the April 2007 Annals of Nutrition and Metabolism: Journal of Nutrition, Metabolic Diseases and Dietetics reported that chia significantly lowered the levels of fats in the blood of rats.
"It has nutritional content in it that is really quite remarkable for a single food," Dr. Bukowski says in an interview with Dr. Oz for Oprah.com.
Like the quinoa seed, the chia seed is a complete protein, containing all nine of the essential amino acids. Failure to get enough of even one of the essential amino acids, which the body cannot make itself, can cause a breakdown in the body's proteins, including muscle, to obtain that amino acid required. High in protein, it is helpful for building lean muscle mass and for weight loss.
Chia has been deemed the "runners food," as it was used by Aztec warriors for long-distance runs and endurance. Christopher McDougall wrote in his book, Born to Run, about the Tarahumara barefoot runners in Mexico, whose diet consists largely of chia seeds and maize, while being easily able to run 50 to 100 miles through the dessert. According to the Huffington Post, McDougall likened the nutritional equivalent of chia seeds to a "smoothie of wild salmon, spinach and human growth hormones.' Also helping endurance athletics, chia is purported to aid the maintenance of hydration. For this use, presoak the seeds before consuming them prior to a workout.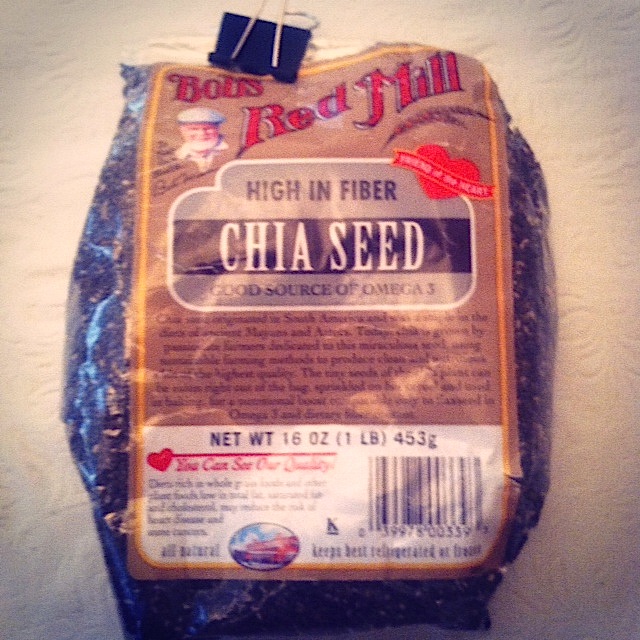 A Livestrong article reported about a study published in 2005 in the journal Nutrition Research, which said that the chia seed has the highest level of alpha-linolenic fatty acid in plants. Researchers concluded that chia shows promise for vegetarians as an alternative to fish-based sources. ALA is a precursor to the other forms of Omega 3, DHA and EPA, and is a great source of energy.
Chia also is a good source of calcium, containing three times more of the daily value per ounce than skim milk at 18 percent. It also is high in manganese, a powerful antioxidant, which is essential for healthy bones, absorption of calcium, proper brain and nerve function, metabolic function and regulation blood sugar, among other things. Chia also is rich in phosphorous, which is crucial in the formation of bones and teeth, helps the body utilize carbohydrates and fats, synthesize protein for cell and tissue growth and maintenance, and is vital for the production of ATP, which the body uses to store energy.
Chia plays a big role in food satiety. It is high in both soluble and insoluble fiber, which helps to slow digestion, clean the intestinal tract and make one feel fuller. One tablespoon of Bob's Red Mill chia seed contains 5 g of fiber, 19 percent of the daily value. According to Dr. Oz, chia absorbs up to 12 times its own weight, expanding to curb appetite. Introducing an ounce of chia to your diet can reduce your caloric intake and lower the energy density of foods, while doubling your intake of fiber.
One way to easily add chia seeds to your diet is to combine a third cup of chia seeds and two cups of water. Whisk immediately to prevent clumping. Let it sit for five minutes and then stir it again. Then place the concoction in the refrigerator overnight, and it will form a jelly-like substance. Eating chia in this form makes the nutrients more easily absorbed by the body and according to Dr Weil, slows the conversion of carbohydrates into sugar. The gel can be spooned into oatmeal, smoothies, protein shakes, soups, salads or any number of meals. Chia gel can also substitute for half the butter or oil in a baked good recipe.
You can also sprinkle ground or whole chia seeds on cereal, salads or yogurt, like flax seeds, eat them as a snack, or grind them to make cranberry chia granola, muffins, breads or chocolate "mousse" cake. Here's a super simple recipe for a chia pomegranate pudding from Dr. Oz. Dr Weil recommends a "chia fresca," blending seeds, lemon or lime juice, sugar and water.
Packed with antioxidants, the seeds can also be stored without refrigeration for long periods of time without going bad. Unlike flax seeds, for example, they also don't have to be ground for the nutrients to be readily available to the body.
The health benefits of chia extend beyond humans. According to Weil, research shows that adding the seeds to chicken feed produces eggs and meat rich in omega-3s. Cow's milk also contains more omega-3s when they are fed chia.