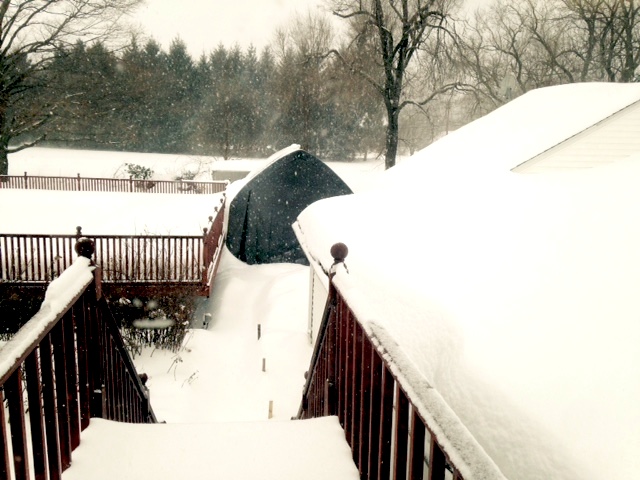 Despite the hardship and struggles I've endured over the years, I suppose I've always had a bit of the Pollyana complex—doing my best to find the good even in unpleasant situations. To the eternal optimist, when life hands you lemons, you make some lemonade. So when the second big storm hit New England in a week, the snowed-in optimist makes some cookies.
As we have been clearing out the pantry to make way for clean eating to jump back into the keto life, I wondered what could be created with the limited ingredients we had on hand. First things first: Flour? Check. Through our multitude of experimentations in the kitchen, from gluten-free living to ketosis, we've discovered how versatile and tasty coconut flour is for baking. Something packed with flavor? The jar of organic, all-natural chunky peanut butter (with nothing extra added) would do just fine. Always a fan of a bit of sweetness, the remnants of a jar of raw honey also begged to be used up.
Peanut butter cookies it was. I found a recipe for coconut flour peanut butter cookies in seconds. With a little bit of improvisation, this seemed like the perfect treat for yet another day of being snowed in. We already had chunky peanut butter, so there was no need to add an extra half-cup of peanuts. Rather than a cup and a half of natural sugar, I used whatever was left of the honey—about a half-cup, or 4 tablespoons. The end was result was flavorful without being too sweet, which the original recipe would have been, and we didn't have to deal with any of the funky aftertaste of Stevia. Fifteen minutes after putting the batch in the oven, the verdict: Tres, tres bien.
With no further ado, here is the recipe for:
Renee's Fine Peanut Butter Cookies
Ingredients:
½ cup sifted coconut flour
1 cup natural, chunky peanut butter
¼ cup (4 tbs) of honey
4 eggs
½ teaspoon vanilla
½ teaspoon sea salt
Directions:
Mix together the peanut butter, honey, eggs, vanilla and salt. Stir in coconut flour. Batter will be on the thicker side, so add warm water to desired consistency.
Spoon the batter a couple inches apart on a butter-greased cookie sheet. The larger the spoonful, the more flavorful the cookie will be.
Bake at 375 Degrees F for approximate 12 minutes.
Remove from cookie sheet, and serve warm.