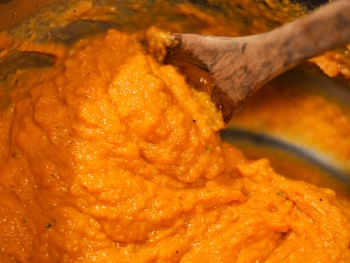 Sweet potato pudding is a favorite dish at the Thanksgiving table. Coming from a long line of Southerners, meals with the extended family have always showcased sweet potato pudding packed with brown sugar and topped with fat marshmallows, butter and toasted pecans. Yet my mother has always served a far healthier version that is easily my favorite.
Sweet potatoes have a creamy consistency that is both comforting and satisfying. They can be a great substitute for white potatoes, which have less nutrients and cause blood sugar to spike. As a lower Glycemic Index (GI) food, sweet potatoes release glucose more slowly in the blood stream, so there is no energy crash after eating them. The vegetable may also improve blood sugar regulation in people with Type 2 diabetes.
Research in the College of Agriculture and Life Sciences revealed that the Beauregard variety of sweet potatoes, popular in my family's home state of North Carolina, is very similar in makeup to the Japanese supplement Caiapo. The supplement is made from the peel of white-skinned sweet potatoes and is marketed to help control blood glucose in diabetics. Japanese have long consumed these type of sweet potatoes to help treat diabetes, hypertension and anemia.
"We're hoping that diet, particularly the consumption of sweet potatoes, will become a more widely used tool in the treatment of diabetes," said Dr. Jon Allen, CALS professor of food science.
Adding sweet potatoes to your menu throughout the year has numerous additional health benefits. High in fiber, the vegetable is extremely rich in Vitamin A, an antioxidant that promotes eye health. It is also a good source of vitamin C and manganese. Packed with beta-carotene, the sweet potato is a great antioxidant and anti-inflammatory. Phytonutrients in the vegetable may also remove toxins like heavy metals and reduce the risk of free radicals.
Sweet vegetables—like sweet potatoes, yams, beets, squash, turnips and rutabagas—also help to naturally reduce your craving for sweets and sugar. My mother's whipped sweet potato pudding is a tasty recipe enjoyed year-round. If you try it, let me know how you like it!
Mom's Whipped Sweet Potato Pudding
4-6 medium sweet potatoes
1 tsp cinnamon
½ tsp ginger
¼ tsp cloves
2 cups water
¼ cup pineapple juice (or to taste)
Scrub sweet potatoes and cut in half, crosswise.
In a 6-quart pressure cooker with rack, place 2 cups of water; add sweet potatoes.
Cover, set control and cook on rack for 30 minutes after control pops up (or jiggles, depending on type of pressure cooker). Reduce pressure instantly by placing pressure cooker under faucet or in pan of cold water. After pressure is released, remove cover and let potatoes sit until cool enough to handle.
If you don't have a pressure cooker, sweet potatoes may be boiled. Heat 1-inch water to boiling then add sweet potatoes. Cover and heat to boiling; cook on medium-low for approximately an hour, or until potatoes are close to the consistency of mashed white potatoes—skin will easily peel from potatoes.
Preheat the oven to 350.
Scoop out insides of potatoes and add to large mixing bowl.
Add cinnamon, ginger, cloves and pineapple juice.
Mix with electric mixer until it reaches a smooth consistency. Personal taste and moisture of potatoes will dictate whether you use less or more pineapple juice.
Add to 2-quart round baking dish and bake for 30 minutes.
-Recipe created by Janice Canada