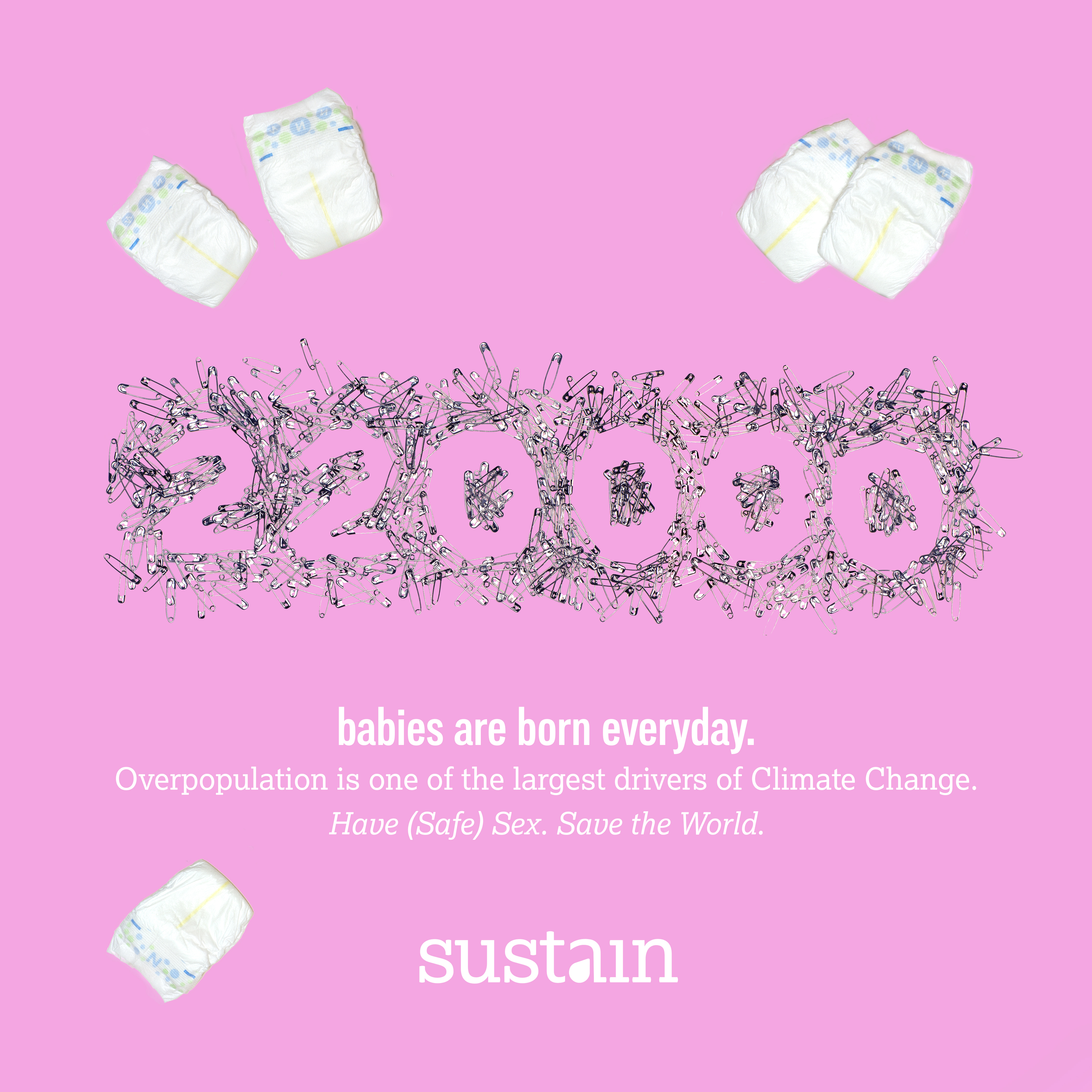 Last month, we addressed the rising threat of water scarcity and safety to the health of the planet due to climate change, pollution and a growing global population. A 2014 study by the Intergovernmental Panel of Climate Change (IPCC) revealed that increased population is one of the two most important drivers of global climate change. For Earth Day, we spoke with Jeffrey Hollender, co-founder of Sustain, the first sustainable brand of condoms marketed toward women, about the strong link between climate change, population growth and family planning.
The population is growing at a rate of 78 million per year, or 9,000 people per hour. Each person on the planet generates carbon dioxide (CO2) pollution, said Hollender. As the population rises, so does the amount of CO2 pollution. It is believed that slowing population could reduce CO2 emissions by up to 30 percent.
"Because most pregnancies—51 percent of these in the U.S.—are unplanned, the population is growing faster than most families would like," said Hollender. "Greater access to birth control will slow population growth."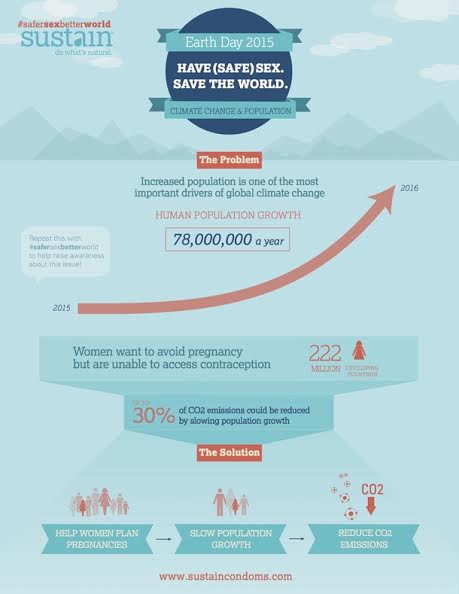 There are 220,000 babies born across the world each day. A surprising number of those unplanned pregnancies are here in the United States. By age 45, it is estimated that more than half of all American women will have experienced an unintended pregnancy, a rate that is significantly higher than many other developed countries. Hollender believes that the lack of sex education, or the presence of abstinence-only education in many states, is partly to blame. He also believes parents are not adequately communicating with their children about sex.
"It's also due to the increased reduction of access to birth control, resulting from efforts to defund organizations like Planned Parenthood," he added.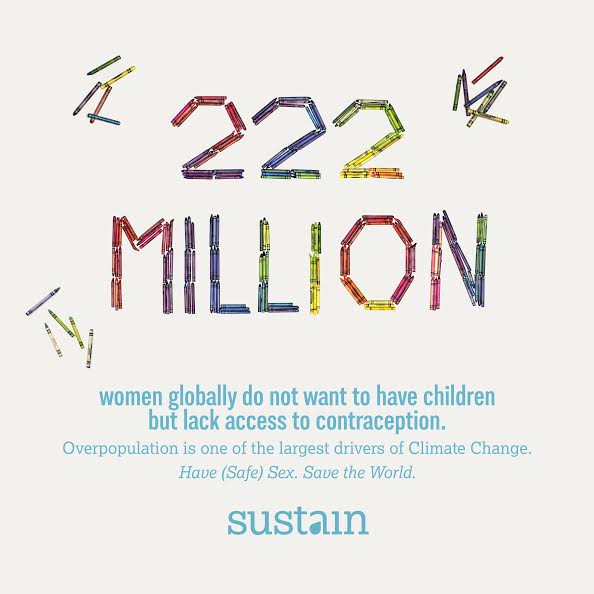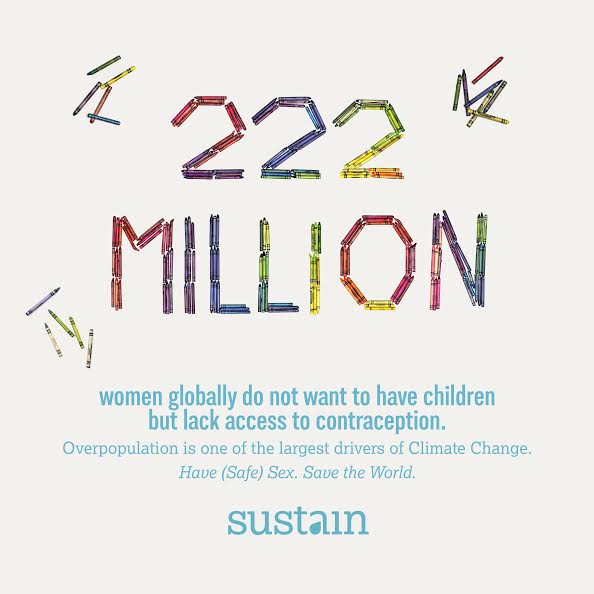 In developing countries, there are currently 222 million women who want to avoid pregnancy but lack access to contraception and reproductive health and family planning services. Yet universal access to contraception will only work if people use it. How do we educate those cultures that reject the idea of contraception and that force women into having sex?
"These are terrible challenging problems. The Grameen Bank in Bangladesh has developed many great solutions; some include only lending money to women and only providing mortgages to women," Hollender said. "This fundamentally changes the power relationships with-in families and lead to much greater leverage for women to insist on the use of birth control. We need more of these types of solutions."
Forty percent of women purchase the condoms used for contraception and family planning. Sustain condoms are the first to be marketed specifically toward women. Hollender believes reaching out to women is critical for decreasing unplanned pregnancies.
"Women cannot rely on men to take responsibility for birth control," he said. "At best, it should be a joint responsibility. Women need to buy and carry condoms to take responsibility for their reproductive health care."
The Sustain co-founder believes that women need to be pro-active about their reproductive health for the same reasons that they exercise, eat healthy and develop skills for better career outcomes. "It's all a critical part of their wellbeing," he said.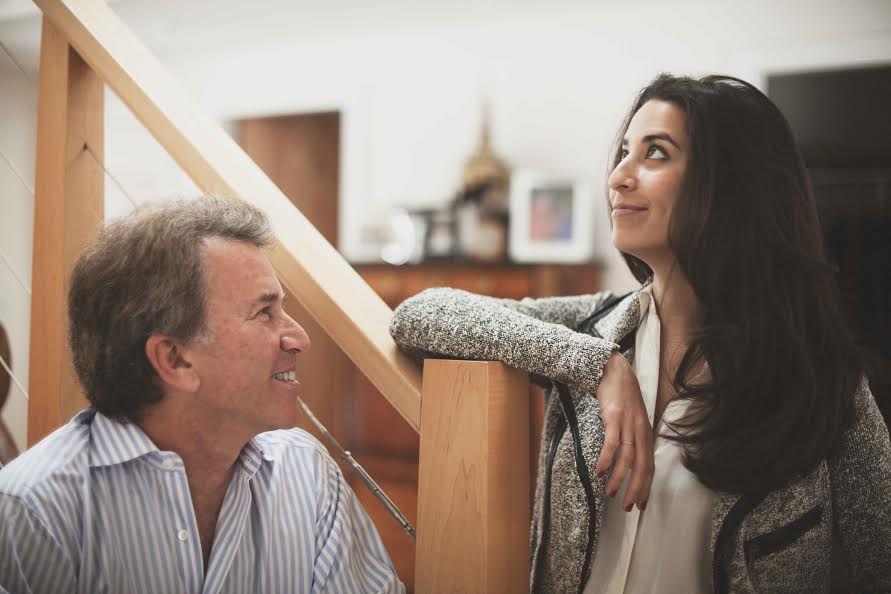 Hollender, who is also founder and former CEO of an eco-friendly household and personal care products company Seventh Generation, and daughter Meika developed condoms that are sustainable, Fair Trade certified, vegan and non-toxic. "Non-toxic contraception reduces the exposure to toxic and carcinogenic chemicals," he said. It contributes positively to women's health "in the same way that organic food, non-toxic cleaners and natural cosmetics do."
There are an estimated 17.4 million women in need of publicly funded reproductive health and family planning services. Sustain also donates to non-profit organizations that provide education on sexually transmitted infections, testing and treatment for women in need. Through its Ten Percent For Women (10%4Women) reproductive health initiative, 10 percent of the company's profit goes toward organizations, like Planned Parenthood of Northern New England, Planned Parenthood of the Gulf and Planned Parenthood of the Pacific NorthWest.
Hollender said, "We also support, the National Campaign to Prevent Teen & Unplanned Pregnancy, Women's Voices for the Earth and the Breast Cancer Fund." The Breast Cancer Fund also works to remove toxic chemicals for the environment, including ones that can interfere with women's reproductive systems.
Learn more about how Sustain supports sustainability and women's health at SustainCondoms.com