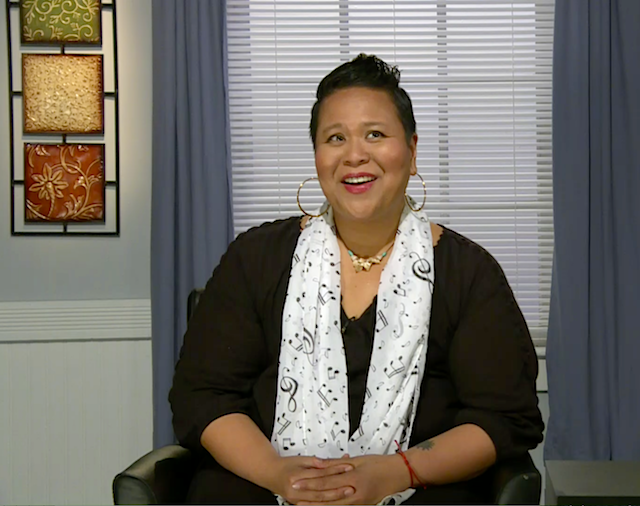 Being diagnosed with a potentially life-threatening health condition–like cancer–can understandably cause great uncertainty, anxiety and fear. Despite the prevalence of those feelings in cancer patients, a recent study by Pfizer found that a 76 percent of those surveyed believe that a positive outlook is essential to living with the disease. Research suggests that actively cultivating a positive outlook can be beneficial for patients' quality of life by decreasing stress, boosting the immune system and countering depression. Heightened awareness and increased attention to the good things in one's life helps foster healthy behaviors, improve treatment compliance and inspire patients to strengthen their interpersonal relationships and to broaden their network of support. Breast cancer survivor Cynthia Malaran recently spoke with me about how reaching out to others and keeping a positive attitude through her diagnosis actually helped her to rediscover her creativity and to find the courage to redefine what it means to be living with cancer.
"As long as you focus on the good things you have on top of the real things that are happening, you have a better chance at getting through this and thrive," said Malaran. "You have to have your spirit in a good place when you're going through treatment. That's a big part of how I got to where I am."
Her story of survival is one of several featured in a national awareness program called This Is Living With Cancer™. The campaign was recently launched by Pfizer Oncology. The program also includes the free, mobile app called LivingWith™, which aims to help patients and their care networks manage the daily challenges of living with cancer.
Overcoming The Daily Challenges of Living With Cancer
"Upon diagnosis, cancer patients obviously are overwhelmed and need to reprioritize health issues–clearly–and treatment," Malaran said.
However, patients may feel isolated and unsure of how to navigate day-to-day life and care. It's certainly overwhelming and exhausting to juggle medical appointments, to keep track of medical records, and to find help from others, while also seeking answers to the myriad of questions that arise when living with the disease. The Pfizer survey from fall 2017 found that more than 70 percent of cancer patients and caregivers felt an all-in-one mobile tool would be helpful in managing the condition; particularly, if it helped them to: keep track of questions that come up during the day and during medical appointments, keep track of medications, and communicate with loved ones. The LivingWith app is designed to assist patients in managing all these tasks in one place.
"It's a wonderful app that I wished I'd had when I was going through treatment a few years ago," Malaran said. "It's where patients and caregivers can stay organized and put everything in one place–doctors appointments, notes, log your mood and create a support system–that's really important for people like us."
Malaran was in her 30s when a doctor found a lump in her right breast that turned out to be an invasive, aggressive form of breast cancer. "Of course that was frightening," she said. "But, in some way, I was also relieved because I got to know this was something happening in me, and I got to treat it as soon as possible."
Without a tool like LivingWith, Malaran was forced to shared her cancer journey publicly on Facebook. She used the social media network to find solidarity and to get help from friends and family. "Not everyone wants to do this over Facebook because it's very public, and sometimes it's even hard to ask for help when you know you need it," she said.
The LivingWith App allows patients to create their own, preferred–and private–social support group. "So if there are specific people in your life that you know can help you with food or taking you to a doctor's appointment, you can communicate with them through the app, and it's all in your pocket," Malaran explained. "Once you've chosen your preferred network of people…people who you love and trust… people who you feel are really fit to help you, you have them right in your pocket to help out, and it's such a gift."
The Gifts of Sharing Your Voice
Yet, her decision to go public with her story was also brought several gifts into Malaran's life. It's how she met the people who were creating the This is Living With Cancer program, after all. Sharing her daily "cancer diaries" online not only gave her the opportunity to form new relationships with strangers, but it also helped her connect further with family and friends. Malaran's writing also allowed her to work through the myriad of emotions she felt during her journey with the disease.
"I found that sharing my diaries and being truthful that way was a great release," she said. "Sometimes you hold things in, and it doesn't serve you. Sometimes when you release things, you can get…I think it strengthens your immune system, honestly–that's how I feel. And you're able strengthen interpersonal connections and reconnect with the people who you do love. But sometimes it takes cancer to help you reconnect to people. And that's fine."
Prior to her diagnosis, Malaran was a multimedia designer. who did most of her work behind the scenes–and behind a computer. "In my pre-cancer life–my past life–I was very stuck to a desk and staring at computer screens," she said. "But afterwards, I wanted to be with people more. And I focused more on music and getting people to dance with me. Because I also found that the people dancing around me were my support system too–because music heals. It's an important piece that people might want to brush off, like, it's not so important."
Now a professional DJ, Malaran plays for different organizations around New York City. She also hosts a radio show and a podcast. She officiates weddings, and she even finds the time to mentor young women at a music camp for girls. She credits cancer with gifting her the inspiration to "play, connect and create" as much as she is able.
"The image of cancer patient is a bald person in a hospital, and a lot of us are thriving post-cancer because we reprioritized, and we got healthy again," Malaran said.
She is certainly not the only one who found her life positively transformed after cancer. More than 700 cancer patients were surveyed by Pfizer during the fall of 2017, and nearly 85 percent reported having a more positive outlook on cancer after being diagnosed. Approximately 83 percent had been inspired to make positive changes in their life after diagnosis. Astonishingly, more than three in five patients affirmed that their journey living with cancer allowed them to discover the "real me."
"I try to tell people who are newly diagnosed to think of this as a restart, and not like a death sentence," Malarian said in her documentary for This Is Living With Cancer. "You can reinvent your life. You have all of the permission now."
https://www.youtube.com/watch?time_continue=9&v=cVR-Ap39v38
Survivors Redefine Living With Cancer
During a presentation at the second annual Patient Navigation Initiative hosted by Susan G. Komen of Greater New York City, Savitiri Basavaiah, the senior director of portfolio marketing and customer engagement at Pfizer Oncology, said: "Regardless of their prognosis, [people with cancer] want to live, and they want to live their normal life. They don't want it to be what defines them and live their life to the fullest. So, that is where technology can really be helpful."
Through the This Is Living With Cancer program, Malaran and other cancer survivors are helping to provide a much needed network of solidarity and support to those diagnosed with the disease. She also hopes to inspire others to rewrite what it means to live with–and thrive after–cancer. With more than 15 million people in the United States are living with cancer, her story offers great hope.
"We're telling our stories to help reshape the impression [of living with this diagnosis] and to tell the story of what it could really be like to thrive after cancer," she said. "We're rewriting what it means to live with cancer, and that's an important thing. We want to be role models and do that."
Learn more about the This is Living With Cancer program and the LivingWith App online at ThisIsLivingWithCancer.com and on YouTube. Patients and caregivers can also connect on Facebook at https://www.facebook.com/ThisIsLivingWithCancer and on Instagram at https://www.instagram.com/thisislivingwithcancer/