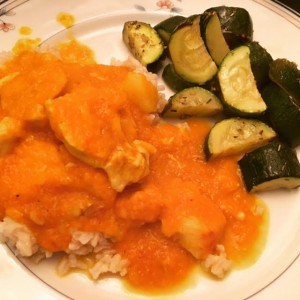 Over the years I've spent cooking and baking in the kitchen, I've discovered that the tastiest dishes often arise from creative, culinary experimentation. Like most, I've tinkered with numerous recipes to add my own flavor and consistency to certain dishes. I have also created unique meals by throwing together whatever ingredients I've scrounged up from the fridge or at the farmer's market. Naturally, not every recipe I've made up on the fly has been a success. I still cringe thinking about the "meal" I attempted to fashion in my 20s from sautéed kielbasa and peas, spaghetti noodles…and applesauce. However, it certainly helps when you develop great familiarity with your ingredients and know how the blending of different spices and foods will shape both the flavor and the consistency of a dish. From here, cooking becomes play, with a pinch of this and a dash of that. And it's always a thrill when what you get cooking creatively in the kitchen is declared a masterpiece by your loved ones.
Get Cooking Creatively
The last time that I successfully experimented in the kitchen, I was tasked with preparing a meal for the whole family in honor of our mother. What would that complement the dish I was already planning—the tried and true baked chicken seasoned with turmeric, black pepper and spicy Montreal Steak seasoning? Inspiration struck at the local bakery when I spotted a ginger carrot soup mix on the shelf. While the soup certainly sounded delicious, at $8 a packet–excluding the requisite carrots and broth–I became convinced I could come up with a tasty ginger carrot concoction of my own.
What if, for example, I used real ginger root and coconut milk, instead of broth? And what if I added curry powder and, as my mother suggested, potatoes as well? Should we roast the zucchini I was planning to serve on the side? Surely, the meal would be complete with some warm garlic naan.
After accruing all the necessary ingredients, I got busy working in the kitchen back home. In the middle of meal preparation, my sister-in-law floated into the kitchen declaring how delightfully fragrant the dish smelled on her way down the stairs. I had a strong sense that we were on the right track!
The true test came at the dinner table when my decidedly persnickety, 6-year-old niece declared her opinion of the dish. As the meal was being served, she immediately turned her nose at the new dish—as expected. After the first bite, however, I overheard my niece whisper to her mother, "This is delicious!" With positive feedback  from the biggest food critic of the family, I was also grateful when the other family members praised the ginger-carrot chicken curry, making me promise to make it again. Best of all, my mother was extremely happy with her special meal, and I was grateful for all her assistance making it happen.
Hope you enjoy this dish as much as we did. Let me know your thoughts in the comments.
Ginger Carrot Chicken Curry Recipe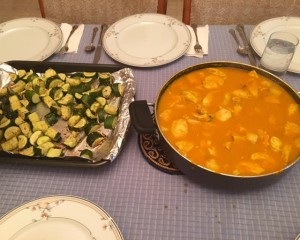 INGREDIENTS:
9 skinless, boneless chicken breasts

12 medium carrots

3 large potatoes

1 can of full-fat, organic coconut milk (from a BPA-free can)

1 ½ inches of ginger root

2 tbs of organic extra virgin olive oil

2 tbs of turmeric (Read Five Reasons to Add Turmeric to Your Daily Diet here)

1 tbs of black pepper

1 tbs of curry powder
DIRECTIONS:
Heat the olive oil in a large saute pan over medium-high heat. Rinse the chicken and cut into pieces no larger than 3 inches wide by 1 inch long. Season the chicken with turmeric and black pepper. (Learn why you should always have black pepper with turmeric here.) Add the chicken to the pan and sear on each side until golden, but not brown. Remove from heat.
Peel and cut carrots into thirds.  Place them in a pan with just enough water to cover them. Cover the pan and bring to a gentle boil until just tender.
After cooling, place carrots in a blender, along with the coconut milk and peeled, sliced ginger root and pulse until smooth. Add water for desired consistency. Pour into sauce pan with chicken.
Rinse, scrub and chop potatoes, leaving on the skin. Add to the sauce pan with the rest of the ingredients, as well as the curry powder and heat on medium for 10 minutes, stirring periodically. Remove from the heat when potatoes are soft and the curry sauce is smooth and creamy.
The dish can be served with brown rice, and warm naan helps soak up the sauce. Roasted zucchini–baked in olive oil, rosemary, thyme and garlic at 450 degrees–also makes a delicious side dish.