¡Feliz Cinco de Mayo! Ever wondered what the celebration is all about on May 5? Believe it or not, the day is more than a festive opportunity to drink margaritas and have Mexican fare—though we love that part too (and much more on that later).
While many mistake Cinco de Mayo as Mexico's day of independence (which is actually celebrated on Sept. 16), the holiday actually commemorates El Día de la Batalla de Puebla in Mexico, an event that occurred some 51 years later.
A Brief History of Cinco de Mayo
The Battle of Puebla was the unexpected victory of the Mexican army over the larger, more experienced French forces of Napoleon III on May 5, 1862. The French, Spanish and British had come to Mexico in late 1861 to collect debts borrowed from European countries to help fund Mexico's civil war of the late 1850s. While Spanish and British troops shortly left the country, France took advantage of the chaos of the neighboring U.S. civil war to invade Mexico in April 1862. At the town of Puebla that May, less than 100 miles east of Mexico City, a small Mexican army pulled a victory reminiscent of David's over Goliath (though it was largely symbolic, as the French did eventually conquer Mexico and established a monarchist regime there, from 1864 to 1867).
While the celebration of the Battle of Puebla was largely unknown to most of the country for almost 100 years, Cinco de Mayo became a popular holiday in the United States in the 1960s. Chicano activists brought attention to the battle to instill pride in the Mexican-American community. While Cinco de Mayo is a relatively minor holiday in Mexico, it is largely celebrated today across this country to honor Mexican culture and heritage. And who doesn't love to celebrate the successes of underdogs?
4 Flavorful Recipes for Your Cinco De Mayo Fiesta
If you're looking for some last-minute, quick and easy Cinco de Mayo recipes for your fiestas today, consider these dishes from Steve Lindner, go-to healthy chef and founder of Zone Manhattan, and the team at bistroMD.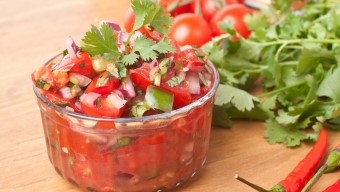 BistroMD's Super Simple Salsa with Avocado
Ingredients
4 plum tomatoes, seeded and diced
1 small, sweet onion, diced
2 jalepeno peppers, seeded and diced
1/2 chopped finely chopped cilantro
1/2 teaspoon of ground cumin
1 haas avocado, cleaned and diced
1 lime, for juice
A pinch of sea salt
Directions
For this healthy twist on a Cinco de Mayo favorite, all you have to do is combine all of the above ingredients, and chill it in your refrigerator for about one hour.
Pair with a bag of low fat corn chips or veggies, and you are ready to start snacking!
Zone Manhattan's Lobster, Pea and Pablano Enchilada
(Serves 12)
Ingredients
Lobster – 1 ¼ lb.
Crepes -12
Pea Tendrils
Veggies for Filing- onions, Peas, Lime Juice and Zest, cilantro, Roasted Pablano
Cooked Black Beans – ½ lb
Green Squash – 1 c. Diced Small
Snow Peas – ½ c. Sliced Small
Grilled White Corn Cut off cobb
Chayote- ½ c Small dice
Baby Pepper- 1cs Sliced Round and Roast
Monterey Jack cheese – ½ pc.
Roasted Tomatillo and Green Pea Salsa
Tomatillo- 5 ea Dice and Roast
Lime- 1 Juice and Zest and Cilantro
Avocado- ½ Diced
Whole Wheat Crepes
Directions
Cook Lobster for 15 min in boiling water, cool and remove meat and dice.
Sauté Veggies for filling until cooked, then cool.
Mix Lobster and Veggies, add Juice and Zest of ½ a lime.  This and cheese is your filling for the enchilada.
Trim Crepe and Roll Enchilada.  These can be made in advance and heated for 1 ½ min in a micro with Cheese and Salsa on top. Whole Wheat Crepe as Tortilla, Roll and Warm in Micro for 1 ½ min.
Season Black Beans with Cilantro, Toasted Cumin and Lime Juice and Zest.  Add Orange Grape Tomatoes, Diced Vegetables and roasted Corn.   Mix. This can be made in advance and heated for 1 ½ min in a micro after warming sprinkle over Pea Tendrils.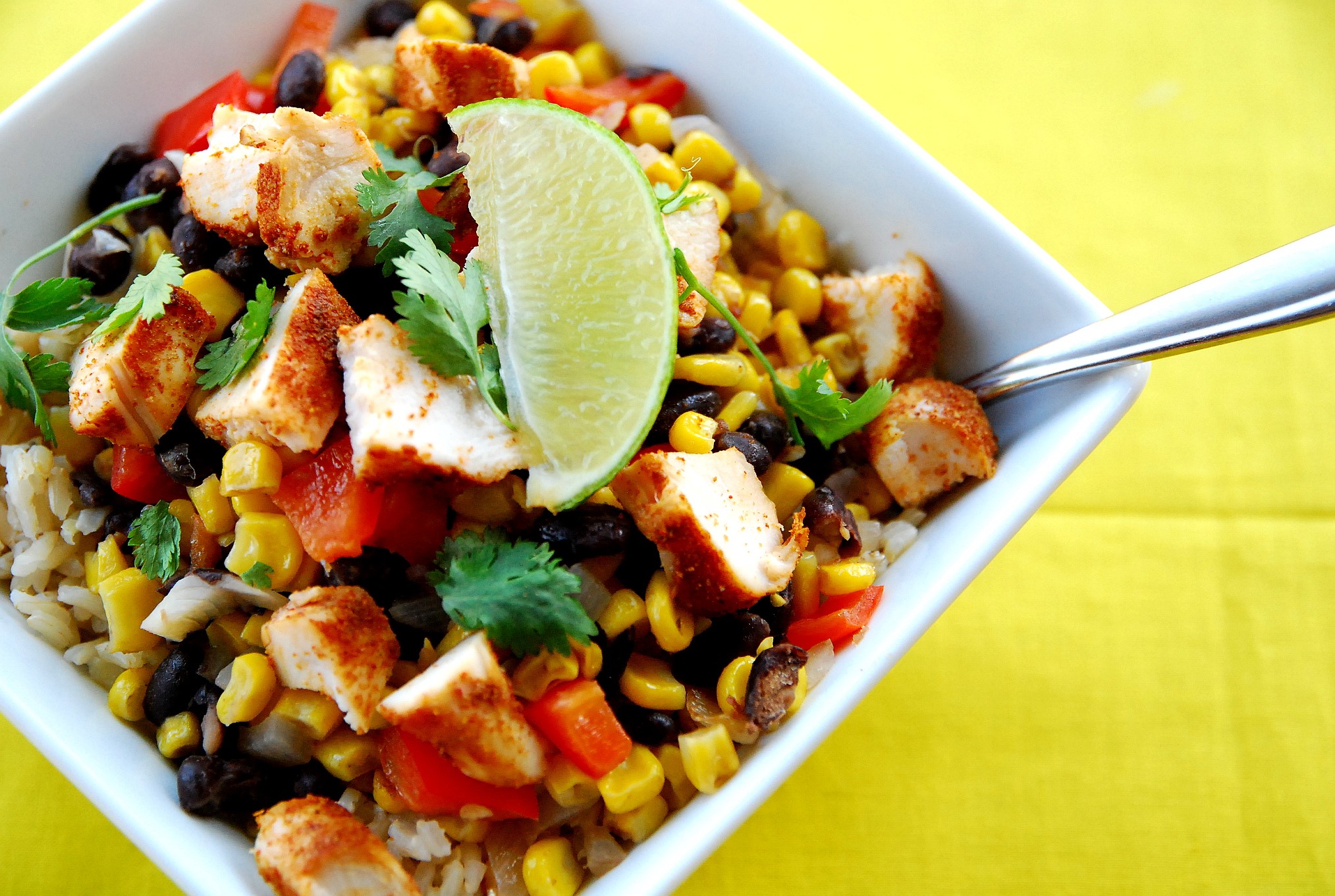 BistroMD's Better for you Chicken Burrito Bowl
Ingredients
For the Chicken:

4, 4 oz. boneless skinless chicken breasts, shredded
Sea Salt, Black Pepper, Paprika and any other of your favorite spices to season (optional)

For the Red Burrito Sauce:

½ tablespoon unsalted butter
1/2 tablespoon corn oil
1 yellow onion, chopped
1 tablespoon masa flour
1/2 cup low sodium, chicken broth
½ cup tomato sauce
½ teaspoon granulated garlic
½ jalapeno pepper, diced
1 teaspoon lime juice
½ teaspoon chili powder
½ teaspoon paprika
1 teaspoon oregano
Pinch of Sea Salt
Bowl Ingredients:
1 cup cooked brown rice
1 Lime, juiced
1 can (15 oz.) reduced sodium black beans, drained and rinsed
2 ears fresh corn OR 1 can (15 oz.) reduced sodium, organic corn kernels, rinsed and drained
1 cup bell pepper, any color(s), diced
1 cup fresh tomato, diced
1 tablespoon Cumin
¼ cup Fresh Cilantro, chopped
2 Garlic Cloves, chopped
Jalapeno or other hot pepper, diced (optional)
Garnish (optional)
Reduced-fat Cheddar Cheese
Chopped Cilantro
Directions:
Red Burrito Sauce:
In a medium skillet, heat the corn oil and unsalted butter over medium heat. Add the chopped onion and jalapeno and saute until onion becomes translucent, about 5 minutes.
Sprinkle the masa flour and whisk together. Allow to cook 2 minutes.
Gradually add the chicken broth; constantly whisk to ensure no clumps of flour.
Adjust heat to medium-low. Add tomato sauce, granulated garlic, lime juice, chili powder, paprika, oregano and pinch of sea salt. Stir together, cover, and allow to simmer for about 20 minutes.
Burrito Bowl:

While the sauce is simmering, add lime juice and fresh chopped cilantro to the cooked brown rice and blend together.
Add the blacked beans, corn, bell pepper, tomato, cumin, garlic and jalapeno to a medium sized bowl and mix.

Divide the rice into 4 portions. Divide the black bean and corn mixture into 4 portions.
Zone Manhattan's Gluten-Free Coconut Tres Leches
Ingredients:
Cake (if making from scratch, see ingredients below)
Coconut Milk
Soy  Milk
1/2 and ½= Sweeten to taste
Coconut Flakes
Ricotta – ½ C
Tofu – ½ C
Lemon
Coconut Flakes
Champagne Mangos- 1
Raspberry- 1
Directions:
Cut Cake into 2 ½ inch rings.
Combine coconut milk and soy milk and a touch of ½ and ½ add Splenda, lime zest and vanilla extract.
On serving plate, Pour liquid over cake and let sit 20 min.  You want the liquid to soak into the cake.  Before Serving add a little more liquid to fill the plate.
Combine Ricotta and Tofu in food processer.  Add vanilla and lime zest and Splenda puree smooth, and add around edge of cake.
Dice Mango and sprinkle with a little lime zest and juice.  Spoon this into the middle of the cake.  Top with Coconut Flakes and Raspberry.
*Cake
Ingredients:
2 C Soy Flour
1 c Canola Oil
13 Eggs
2 C Almond Flour
.75  Tbsp. Baking Powder
.75 Tbsp. Baking Soda
½ C Coconut Milk (unsweetened)
½ C Coconut Flakes
 1 C bag Splenda
2 Tbls. Vanilla
Zest of 1 lemons
Directions:
Combine all dry ingredients in mixer.
Combine all wet ingredients and add into dry mixture. Blend until combined.
Fold in whipped egg whites.
Divide onto 8-inch nonstick pan sprayed with Pam. Bake for 12 minutes at 350. Check and continue at 2 minute intervals until knife in center comes away clean.