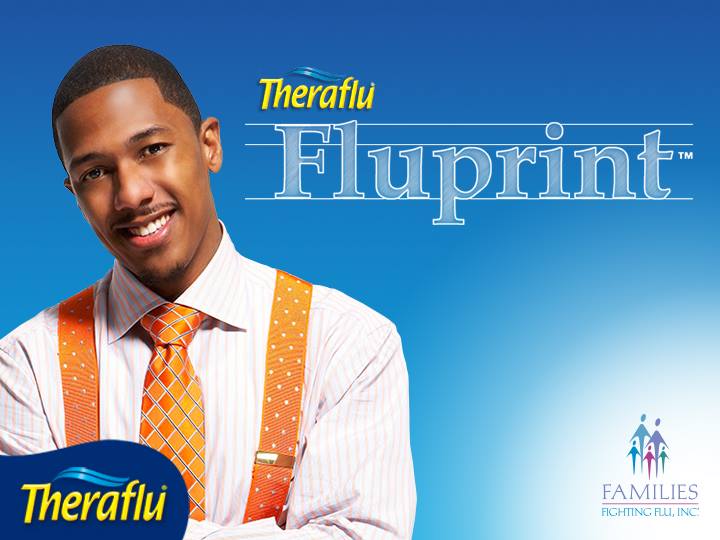 As temperatures drop here in the northeast United States and more of us develop the sniffles, the cold and flu season is definitely on the mind of a lot of folks. Last Thursday, I had the pleasure of speaking with entertainer and fellow "lupie" Nick Cannon about the flu and his partnership with the makers of TheraFlu® and the national nonprofit organization, Families Fighting Flu. Cannon is now the spokesman for the flu awareness and prevention Theraflu® Fluprint™ program.
"It made the perfect sense because Fluprint is just five easy steps that allow everyone to get ready for flu season," said Cannon, performer and host of NBC's talent competition, America's Got Talent.
Fluprint is a straightforward action plan for dealing with the flu that consists of these five steps:
Learn
Vaccinate
Prepare
Treat
Share
"The last step, share, is the really cool thing," said Cannon, "because you get the opportunity to not just gather the information for yourself when you visit the Theraflu Facebook page, but you also, just by hitting the 'Like' button, help donate up to $100,000 to the non-profit organization Families Fighting Flu."
For every 'Like', the makers of Theraflu® will donate $1, up to $100,000 total, to Families Fighting Flu. The organization helps families in need get flu-ready and will use the donation for setting up vaccination clinics, school-based programs and developing educational materials, according to Theraflu®.
[youtube https://www.youtube.com/watch?v=A9SkOCZGqeA]
You can learn more about the steps in my interview with Nick, shared above, and by visiting Theraflu on Facebook. The site also differentiates between the symptoms of flu and a cold, offers precautionary measures to help prevent getting the virus and gives tips for how to treat its symptoms once you get the flu. There is also an app to check the how the cold and flu are affecting people in your city or state.
Keeping one step ahead of the flu is especially crucial for children and immuno-compromised folks. As a father living with an autoimmune condition, Cannon stressed the importance of having an immune system in the best shape possible. He said, "And it has to be almost stronger than ever before because these conditions can make you really weak, and other medicines can kind of tear your immune system down."
Cannon was diagnosed with lupus nephritis in 2012, and he said it changed it his life. "It made me want to turn my test into a testimony. It made me want to get out there and show people that you can get past it and work through it," he said.
Lupus nephritis is inflammation of the kidney caused by systemic lupus erythematosus (SLE or lupus, for short). SLE is a disorder where the immune system starts to attack the body's own healthy cells and organs, mistakenly identifying them as potentially harmful foreign bodies. Lupus nephritis can develop when the disease begins to target the kidneys.
Initially the entertainer had to make a lot of changes in the way he ate after his diagnosis. He followed the renal diet for kidney disease, stopped eating processed, food and salts, and learned to pick the proper proteins and vegetables. "And now, I'm a little bit more lenient but I still try not to eat fast food and drink lots and lots of water."
The ultra positive superstar added, "It's only helped for the better because now I am in the best shape and stronger than ever."
Making sure people with autoimmune disease stay as strong as possible is another reason why Cannon advocates the Theraflu® Fluprint™ program. "The community is clearly affected by what's going on with flu season each and every year," he said. "And because health and wellness is on everyone's mind, there's so many things that people are concerned about, but this is something that we can actually get in front of and control."
The consummate professional had to host live television when he last had the flu. "You had to just keep it going. You can't stop," he said. "No matter what's going on in life, you have to persevere through it."