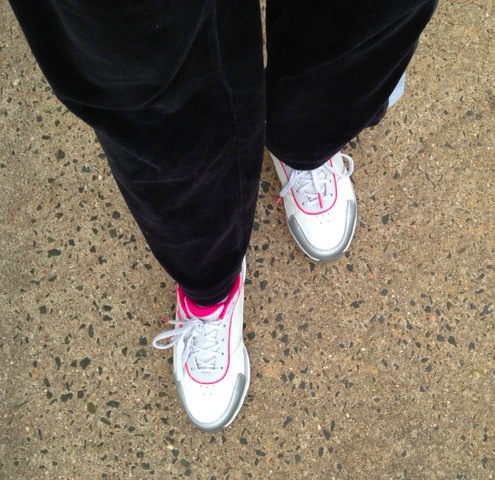 Sunshine is pouring through the windows of my office. That, coupled with temperatures above freezing, call me to head outdoors. I'll be slipping on my sneakers to get away from the computer screen soon and taking full benefit of that extra hour of daylight. Here are 10 reasons why you should lace up your shoes to walk today too.
1. It's National Walking Day. For the ninth year, the American Heart Association (AHA) is encouraging people to get out of their chairs and walk for 30 minutes. As part of its "My Heart. My Life" initiative, AHA is encouraging Americans to participate in healthy behaviors to improve cardiovascular health. Analysis of the National Runners' Health Study and the National Walkers' Health Study found that brisk walking is just as effective as running for reducing the risk of high blood pressure, high cholesterol, diabetes and possibly coronary heart disease.
2. Watching your waistline? Studies have shown that walking just 30 minutes five days out of the week has also been found to counter a genetic propensity to being overweight or obese. Walking may also reduce the risk of early mortality that comes with a sedentary lifestyle.
3. Can walking extend your life then? For every hour of brisk walking, life expectancy for some may increase by two hours, according to the AHA. Walking is also associated with a reduced risk of dementia and can help cognitive function, improving quality of life as you age.
4. A half hour of walking can boost immune function. Walking for a half-hour is associated with increased blood counts of white blood cells, including natural killer cells, and interleukin-6, an inflammation modulator and metabolic regulator.
5. Walking is a "superfood" of movement nutrients for the body, according to biomechanics specialist Katy Bowman. Click here to find out how to get the most fitness benefits of what Bowman calls the "defining movement of a human."
6. Walking outside in nature is beneficial for our physical, mental and spiritual health. Studies have shown that being out in nature can distract us from pain and physical discomfort, while reducing muscle tension, blood pressure, heart rate and the production of stress hormones. Spending time outdoors can relieve depression and anxiety and make us for feel more relaxed and centered. It also can help us feel more connected to other people and to the universe at large. Finally, spending time in nature can boost our creativity, attention and focus, while honing our problem solving and reasoning skills.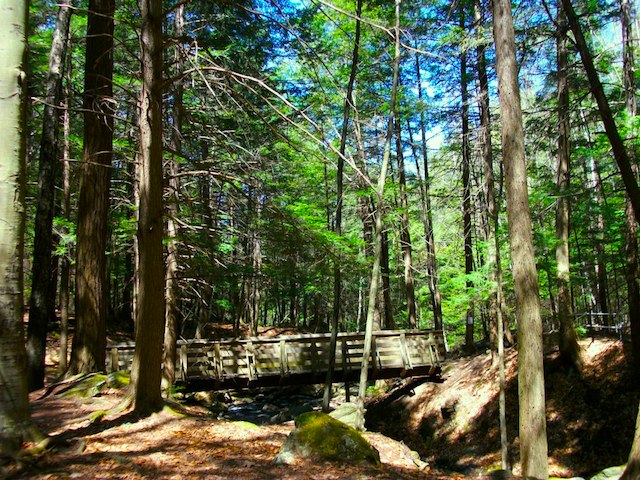 7. Walking gives us a sense of freedom and adventure. As Henry David Thoreau wrote in the essay, "Walking":
I think that I cannot preserve my health and spirits, unless I spend [time]…sauntering through the woods and over the hills and fields, absolutely free from all worldly engagements…We should go forth on the shortest walk, perchance, in the spirit of undying adventure, never to return, prepared to send back our embalmed hearts only as relics to our desolate kingdoms."
8. Great news: You do not need to learn how to walk. You've been doing it since you were a toddler. However, proper alignment is important to reduce the risk of injury while walking for fitness.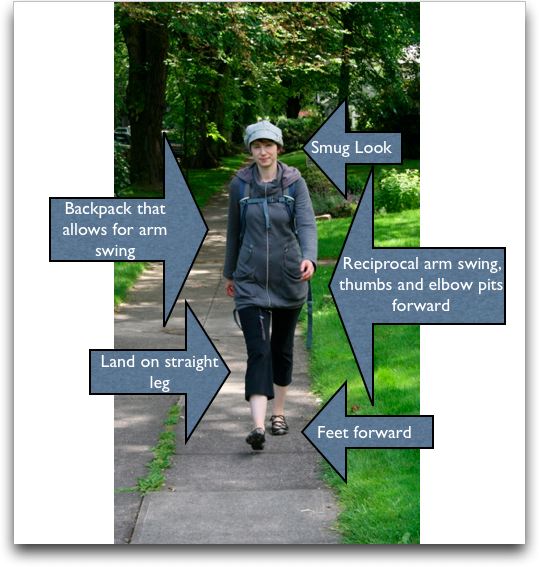 9. You also do not need special equipment to walk. You don't need weights, resistance bands or any props. You can walk in yoga pants or you can walk in comfortable jeans; it's your choose. Simply throw on a pair of comfortable and supportive shoes—though make sure they don't hurt your precious feet.
10. By taking time to move throughout the day, you are also setting a great example for others. I know I am inspired to move more when I see this elderly woman dressed in red walking all over town every day, rain or shine. Don't like walking alone? Enlist a colleague, friend or family member to join you. Walking need not be simply another thing on your to-do list. Make it a social experience by walking with others, set your groove with some music motivation or be inspired by the view by finding a scenic walking trail outdoors.