There are few things more soothing to a throat ravaged by the harsh coughing of a first fall cold than a cup of soup or broth. Fewer still things are as tailored for fighting the cold and flu better than a nutrient-rich cup of soup made with  rejuvenating bone marrow, reduced cartilage to help normalize the immune system and mineral-rich bones. That's why I'm excited to share with you the delicious dish I consumed this morning: creamy spinach bone broth soup.
This recipe takes the shortcut to making bone broth by using top-quality beef gelatin from U.S. Wellness Meats, made with sherry vinegar and beef marrow bone stock. I was really happy to see they used the beef stock recipe from Nourishing Broth—and that all the bones came from completely grass-fed and grass-finished animals.
The beef stock is made from beef bones, carrots, celery, onion, bay leaf, Malabar peppercorn, parsley and thyme. Celery, parsley and thyme­—packed with vitamin C—and manganese-rich peppercorn all have antioxidant properties, as does carrot, which is an excellent source of vitamin A. Thyme, which contains the antimicrobials thymol and carvacolo, has also long been used in herbal medicine as an expectorant, helping to treat coughs and chest congestion. Bay leaf has also been used medicinally to treat colds and flu, and it is considered antibacterial and antifungal.
The defining soup ingredient, spinach, is also full of antioxidants, particularly vitamin A (in the form of carotenoids), as well as vitamin C, vitamin E, riboflavin (B2) and manganese. Oregano is a rich source of vitamins A, C, E and K, and it contains the two powerful antimicrobials, thymol and carvacrol. I added the herb to this soup recipe due to its reputation as a potent antioxidant and infection-fighter, particularly for upper respiratory infections, like the cold or flu. To add the final knockout to my cold, I used Kerrygold garlic and herb butter with the potent cold-blaster garlic and antioxidant-rich parsley and chives (packed with vitamins A and C). The essential oils of dill are anti-congestive, antioxidant and antimicrobial, and paprika contains the mucus-clearing capsaicin.
You can read more about the benefits of bone broth here and how collagen helps you heal more quickly, but I wanted to throw in a good word for its headlining ingredient, cartilage. Nourishing Broth quotes Arthur G. Johnson, PhD, as saying bovine cartilage is a "'true biological response modifier,' meaning it increases the ability of white blood cells to destroy bacteria and viruses." Johnson is Professor Emeritus in the Department of Anatomy, Microbiology and Pathology at the University of Minnesota-Duluth School of Medicine. With all the above, it's no wonder why our elders so frequently "prescribed" us a bowl of chicken soup when we got sick as kids.
A Keto-Friendly Creamy Spinach Bone Broth Soup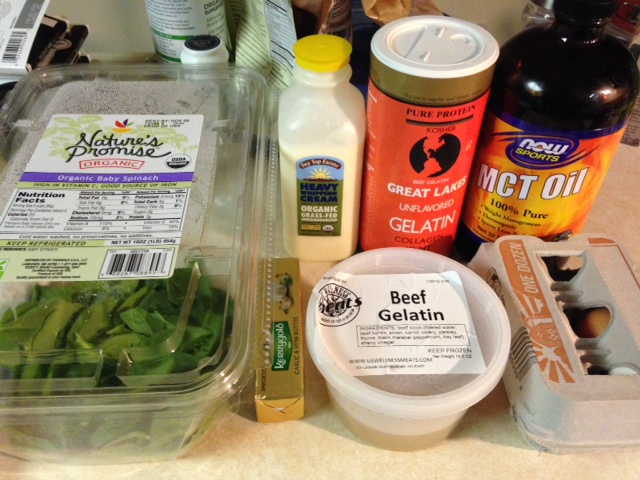 Ingredients:
 2 cups of organic spinach
½ cup of boiling water
4 tablespoons of heavy whipping cream (organic, grass-fed, un-homogenized)
2 tablespoons of Kerrygold garlic and herb butter
2 tablespoons of MCT oil
1 tablespoon of Great Lakes unflavored beef gelatin
1 grass-fed, pasture-raised chicken egg
¼ teaspoon of oregano
Directions:
Put a teakettle of water on stove to boil while assembling the rest of the recipe.
Briefly pulse the spinach in a food processer or blender.
Blend the whipping cream, MCT oil, beef gelatin, egg, oregano and butter with the spinach in the food processor or blender until smooth and creamy.
Add boiling water and blend again until you have reached your desired soup consistency. I preferred a thick and creamy soup, so only used half a cup of boiling water.

Note: If you choose, you may melt the butter in a saucepan on low over the stove before blending.
* So what's this about the MCT Oil? Medium-chain triglycerides are a special type of fat that requires less energy and enzymes to be digested, providing easily accessible, steady energy and an increase in metabolism. It is a key tool in the ketogenic diet, which I am following to strengthen and further protect my neurological health, but a whole lot more on that in another post.)